As a property professional undertaking property projects, you are critically important to the country in these times. You can be economically productive right now, and you can bring further economic productivity into the economy as the Covid-19 situation eases, aiding the country's economic bounce-back. There is no doubt that a key part of economic recovery will be to build, in terms of both infrastructure and chronically under-supplied housing as this drives spend on materials, labour and services throughout the building and construction ecosystem. More than ever, you need a reliable, knowledgeable, responsive and speedy source of capital that behaves and acts like a long-term funding partner, which is exactly how CrowdProperty is positioned. CrowdProperty is open for business and funding projects as quickly and reliably as ever – the last two projects each funding in under 1 minute.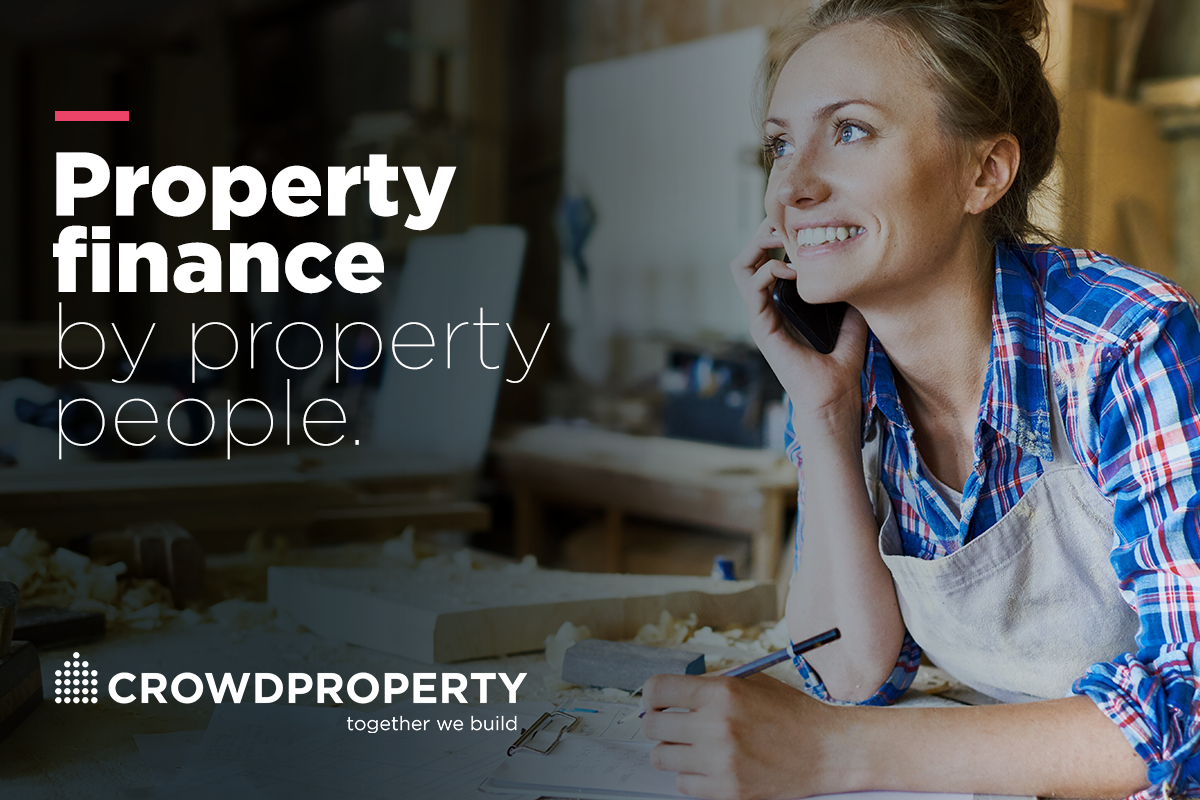 We set up CrowdProperty in 2013 to give a better deal for all – our borrowers, our lenders, the under-supplied housing market and spend in the UK economy. As we personally experienced through decades of investing in, and developing, property ourselves, traditional sources of finance were failing quality property professionals looking to undertake quality property projects. Large housebuilders felt this pain less but there are a finite number of large sites in this country to develop. The critical segment to future housing supply is small and medium sized businesses (SMEs) building homes… which is exactly where our expertise lies, where our focus has always been, and why you are critical to the UK economy.
The SME house-building segment dropped in housing output from 60,000 in 2008, to 20,000 in 2017, in a context where the country built c.200,000 in each of those years. The actual requirement has always been over 300,000 of course, which we've not delivered on for decades. Not building just one home not only exacerbates the housing under-supply issue but also means that £100,000-£200,000 less is spent in our economy on labour, materials and services. 100,000 fewer homes costs the economy £10bn-£20bn. Why did the SME segment drop by so much? By far the biggest reasons is funding, with 42% of respondents to our survey (the largest SME property professional survey ever undertaken) saying that funding has been their biggest barrier to building more homes.
This is exactly what we experienced ourselves for decades and is the pain that underpins the CrowdProperty proposition. We've built the best property project lender in the market, as property finance by people, delivering the speed, ease and certainty that you need to grow your property business quicker and deliver more housing into the UK economy.
First and foremost, CrowdProperty is a specialist property project lender, built on expertise in exactly what you're doing – small and medium sized residential property projects. We're not bankers who have never been to a building site, or lawyers who'll throw the contract at you without understanding the context, or tech people who have no grasp of the real world and offer no way to get in touch. We've been in your shoes and fundamentally understand your needs. As ours were, and as we continually reassess through research, your needs are around speed, ease and certainty of finance, alongside transparency, access to decision makers, expertise in what you're doing and building a long-term funding partner. We know, just for example, that it's critically important for you to select the right project as efficiently as possible (and understand why you may wish to pass on one project based on direct expert feedback), that you can get the best deal by delivering speed and certainty to vendors and the best way to keep the site motivated is to pay swiftly, supported by market-leading speed of assessing and releasing drawdowns.
We are building long-term relationships with our borrowers, changing the transactional, hidden-fees, 'milk this loan' game that plagues the property project lending market. That's fundamentally why our borrowers keep returning to fund their next project with CrowdProperty – we're a true, long-term funding partner and become a valued part of their team, adding value throughout their projects. These, alongside ensuring that we are always very competitive on price (even though experienced developers, who have been in the market for decades, tell us they would gladly pay more for a lender who solves these entrenched market issues), are likely to lend more with our stretch senior positioning and can build a funding package that suits any good project proposed to us, means that we have achieved our goal of building the best property project lender in the market. But our team of 32 will never rest as we have a relentless pursuit of excellence and have many more innovative plans to help you grow your property business faster, through working with value-adding experts, and spending less time faffing with traditional, faceless sources of funding.
All this is actually irrespective of our sources of capital – whether we're an 'alternative finance', 'peer-to-peer' or 'crowdfunding' business – all you need to know is fact is that we're the best lender out there because we've built CrowdProperty to first and foremost solve your pains as a property professional – through technology for efficiency and expertise for effectiveness. As it happens, and what couldn't be more important right now, is that we have uniquely diverse sources of capital from retail, high net worth, ultra-high net worth, private fund and institutional sources. Most funders in the market are exposed with single sources of capital, and they were the first to shut up shop as Covid-19 set in. Even those with multiple sources were exposed as those sources had exactly the same underpinning exposures to equity market volatility and lending attitudes. Diverse types of capital with different needs, preferences and attitudes, which is only built up by 6 years of lending with a perfect track record, gives far greater reliability of funding through any stage of market cycles.
As a result, we've been open for business throughout these tougher times, supporting existing and new borrowers, and are picking up the pieces for many who have had agreed funding lines cut, even part way through projects (yes, incredibly some funders have stopped drawdowns even in arrears to progress on sites – we'd love to name names but won't). We will scrutinise projects carefully and advise where we believe that it's in your best interests to delay a transaction / project commencement, but we will progress all good applications, fund as necessary and work closely together with you through these times.
We have recently also seen other funding providers pulling out of refinancing completed projects. The projects have been successfully completed and value has been added. We are working closely with current borrowers and other borrowers stuck on expensive late interest rates with other funders (just one of the many traits of transactional lenders with onerous hidden fees), assessing each on a case by case basis with an expert eye and working through the best solution for all concerned. We've had a Development Exit product for years to allow for final touches and sales timelines, which is understandably a very popular helping hand right now.
With existing projects which may run late, we are working closely on a one-to-one basis with them, striking new terms with those whose loans have either ended or are about to end giving them comfort that they have new/extended loans, getting them off penalty positions, giving them plenty of exit runway which they can repay early at no cost and protecting their legal position, whilst ensuring our lenders' position is safe.
CrowdProperty has now funded the development of nearly 1,000 UK homes worth £160,000,000 having lent £65,000,000, funding c.£50,000,000 of spend in the economy on labour, materials and services. We know that this is just the start and are here, as always, to support you and your needs as the housebuilding sector plays it's part in economic productivity now and in the bounce-back to come, especially as a major part of the bounce-back will be to build.
Property finance by property people just makes sense on so many levels.
Some practical risk-mitigation advice
We've been working closely with our current borrowers to help them risk manage their projects through the current situation. Direct, expert to expert conversations with a common goal – to finish and exit their projects successfully. In good times and tough times, we're a true partner and know from decades of experience through multiple market cycles that working together always produces the best outcome for the project, which is in everyone's best interest. One of the major failings in 2009 was the banking sector's 'repossess and fire-sale' wholesale approach, which deep, hands-on property experience through many market cycles tells us is never right. Open and productive communication, expert to expert, always prevails.
If you're working on projects right now, as clarified by Alok Sharma (Secretary of State for Business, Energy & Industrial Strategy) on 31st March, building and construction should continue where it is safe to do so. The Construction Leadership Council has issued new Site Operating Procedures which is helpful guidance on safe practices that are aligned to the paramount responsibility of social distancing and protecting the NHS. With the permission to progress projects (benefitting not only yourselves but all stakeholders through the supply chain - whether it's self-employed labourers on site through delivery drivers, service providers, materials manufacturers etc as well as the economy) comes this overarching responsibility – to safely continue economic activity.
We have additionally advised those currently progressing projects in many practical and knowledgeable ways to mitigate the risks to progression, including:
Splitting teams on site
Separate amenity blocks
Staggered travel hours, working hours and breaks
Provision of hand sanitisers and further hygiene precautions
The isolation of an area on site for suppliers to offload materials with separate protected confirmatory signatory area
Holding increased supplies on site
Offsite areas to store materials where necessary
Earlier ordering of supplies with a long lead time, to be held on site until needed
Identify alternative points of supply chain so they have a backup should the original supplier be unable to deliver
Extending build schedules and holding contingency reserves
Across our active projects, in the main sites are being kept open. We are seeing many borrowers be proactive to troubleshoot, including workarounds where supplies are drying up through both resequencing of works / build programmes and sourcing supplies from alternative channels such as non-local DIY stores (paying a little more for some materials is negligible to the impact of no progression), securing trades at improved day rates as their other work has dried up, rephasing programmes based on site location rather than trade to allow trades to work alone in certain parts of the development, focusing on critical path items and progressing other elements with any excess resource capacity, and ensuring that they are being absolutely exhaustive in where major hardware elements are sourced (e.g. windows, stairs and kitchens).
For those of you who are landlords, as many of our borrowers look to keep the developed assets to build a long-term portfolio, the latest Government guidance for landlords can be found here.
The building and construction sector may be instructed to down tools altogether but, as it has in Spain, will open up quickly to help build our way out of economic troubles. There has never been a more important time to work with lenders who bring more than just unreliable hard cash.
How to get in touch with CrowdProperty
We work directly with our borrowers rather than through brokers, which means you'll both save on broker fees (why some brokers bemoan us) and critically be able to speak to CrowdProperty experts and key decision makers directly throughout the application process and beyond. The best starting point for funding is our online application form here (www.crowdproperty/apply). This was designed with you in mind, based on what we wanted when we were undertaking property projects – an easy way to run a project by the experts to ensure your time is spent progressing the most feasible projects, relative to the £3bn of projects assessed to date. Where else can you get such a sense check?
In developing this form, we applied the principles of the famous Winston Churchill quote 'sorry for writing you a long letter, I didn't have time to write you a short one' as we were fed up with 20-page application forms of non-material information, even for a buy-to-let loan. We spent the time honing down the questions so that we only ever ask for information when it's relevant. Filling in a form might sound at odds with the relationship dialogue above, but this enables us to run an initial assessment enabled by our powerful technology platform. We will then call within 24 hours to talk through your property vision, well informed about the fundamentals of your project, and further relevant questions to ask, to give you the best possible service and an illustrative offer within 24 hours. You can of course also call our specialist property team on 020 3012 0166.
This direct relationship with your lender with direct communication channels to experts and decision makers gives you the edge over your competition for the sites you know you want to win and a partner throughout the project on sites you do win. Hear from CrowdProperty borrowers about their experience by visiting the CrowdProperty case studies page where not only can you view 12 video case studies but you can also flick through every single project we've ever funded on our project photo wall and simply click for more information.
We'll continue to share information (for example this thoroughly researched piece written by the US property portal Zillow on impact of pandemics on economies and property markets) via our blog, where you can also find our recent series of 40 articles on alternative finance, peer-to-peer lending, property and CrowdProperty. As we don't share all of our analysis, thinking, research and views over email, if you're interested in keeping in closer touch, do also follow us on our social media channels.
Having built the best property project lender in the market, partnering with our borrowers throughout their project, as property finance by property people we are continuously building stronger systems, processes and capabilities to help you grow your property business quicker. Covid-19 is a human tragedy of global proportions. It is, in turn, producing turmoil in financial markets but as a sector, building and construction can be a key part of the recovery. Now, more than ever, there is no reason to accept the failings of funding providers that have only ever acted in their own self-interests, and every reason to work with people who have been in your shoes.
We're changing the game of property project finance, very much open for business and here to help. Let's get talking even if you haven't got a project right now such that when the building frenzy starts, you've got the best of the best on your team. Together we build.
Find out more at www.crowdproperty.com
Apply for property project finance in just 5 minutes at www.crowdproperty.com/apply
Read our series of 40 articles on alternative finance, peer-to-peer lending, property and CrowdProperty, and more at https://blog.crowdproperty.com/
---
---