Article 23 in a series of 40 articles on P2P, property and CrowdProperty.
In the previous blog, we gave an insight into how the P2P trade body safeguards the interests of platform customers. Here, we explain why we believe staying on top of the latest trends in the property market is so important, and next we let our borrowers speak for themselves as to why they find CrowdProperty so good to work with.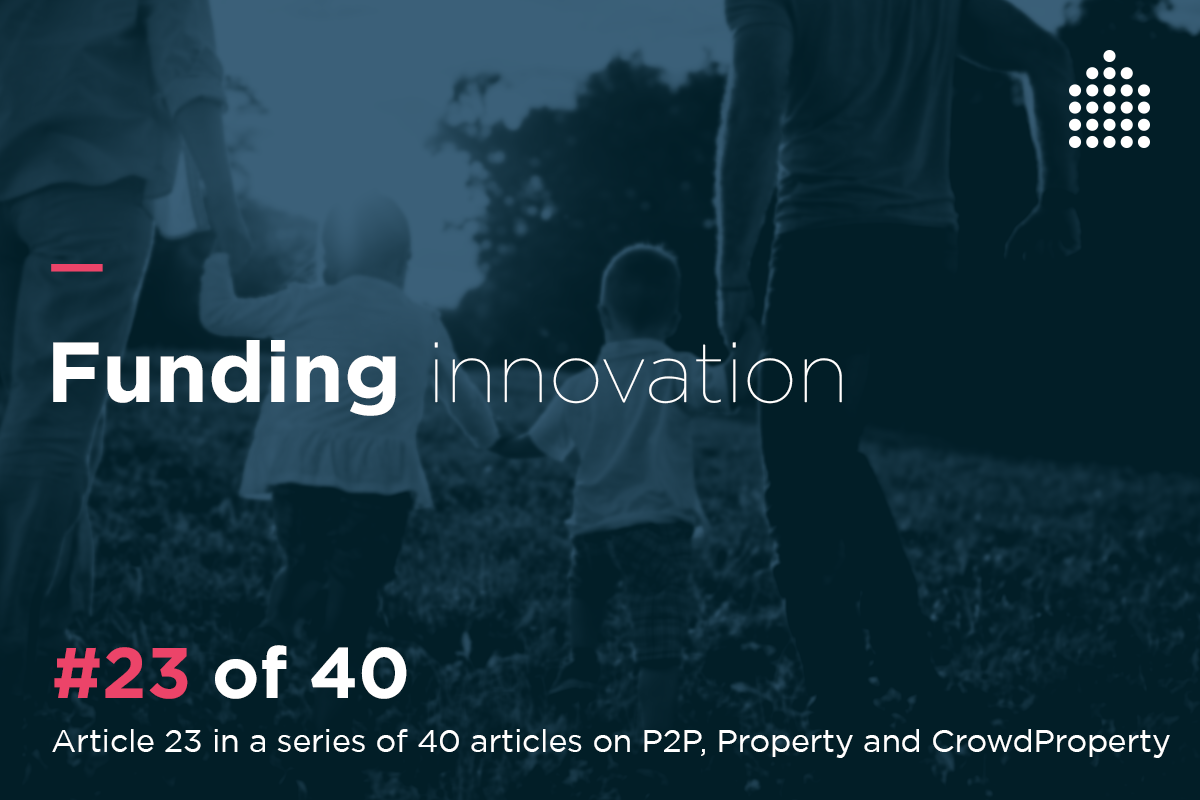 Funding innovation shouldn't necessarily be seen as risky. Indeed, not funding innovative forms of construction - at a time when housing undersupply is so chronic and when sustainable construction is ever-more important - is the real risk.
Sadly, not everyone agrees. Take large traditional lenders, for example.
There was a time when banks could draw on a range of expertise to make a lending decision. But times change. Banks have had their lending curtailed in order to lower their risk profile, and this is writ large when it comes to property lending. The corollary of this is that if you're not doing so much property development lending – especially to smaller and mid-sized developments – then you don't need the in-house experts to assess the advisability of new developments in the property market. You just sit it out, and if the regulators agree that it's low risk, then maybe they'll help finance it.
Banks have to play it safe – and 'safe' here is defined as what a truck-load of actuaries, lawyers and regulators view to be safe: all boxes ticked; the reasons for the last crisis legislated against; door firmly double-bolted now that Neddy has fled the stable.
Computer says no
The problem for the property developer is that, if and when this happens, oceans of water have passed under a good many bridges - and with this, the premiums that entrepreneurs have sought to generate. The resultant problem for the property market is that, if this is the only source of finance, property continues to be built as property always has been: no innovation, no forward thinking, no progress. Progress = risk. Computer says no.
Fortunately for property innovators, that isn't the only solution. There's CrowdProperty, for a start.
We're not only property finance by property people but – precisely because we're property people – we're right at the frontier of developments in the property market. Not only do we offer the full suite of short-term finance packages but, as experts who stay at the very cutting edge of property market trends, we'll fund any property type, construction method, tenure type or deal structure: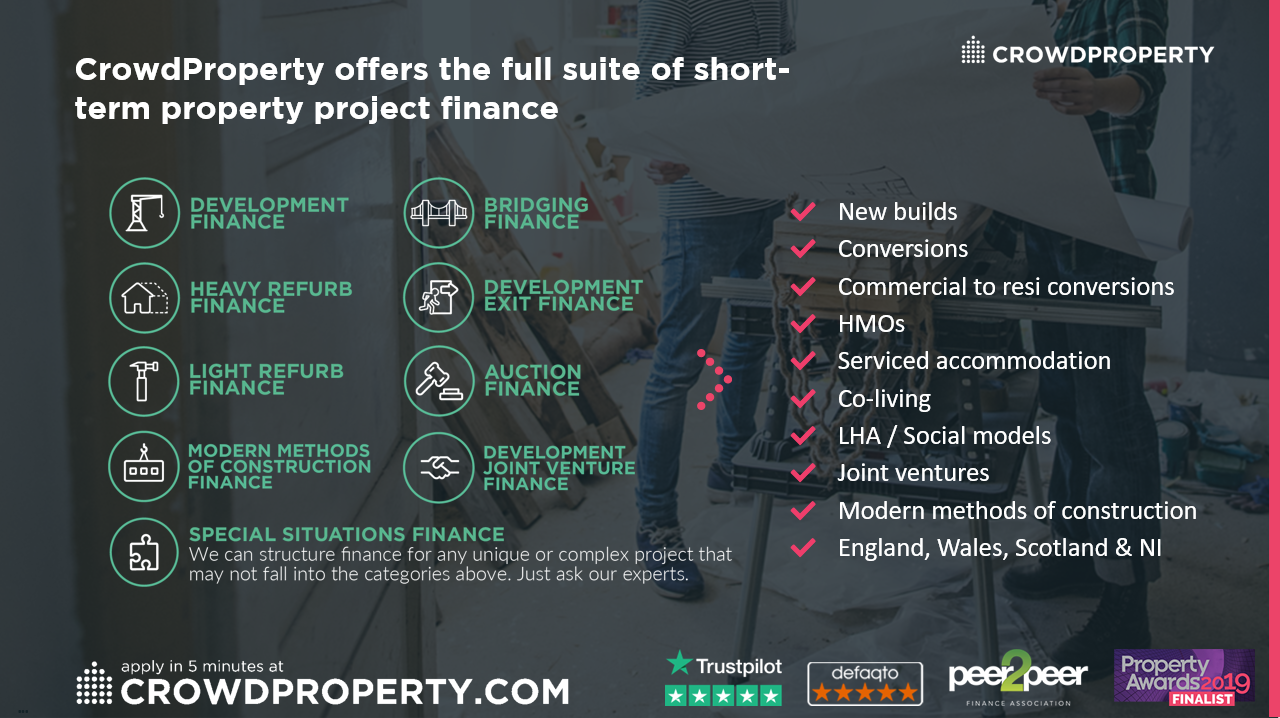 CrowdProperty supports all types of residential property projects, whatever the structure or nature. For example, we have funded many modular developments. While modular structures and Insulated Concrete Formwork (ICF) are not new approaches, they are relatively novel when compared to more established practices. Although they offer many benefits – such as ease and efficiency of construction, and excellent insulation and airtightness for the latter – we regularly hear that traditional lenders want to keep them at arm's length. It seems most simply don't have the in-house skills to assess and structure them as lending prospects.
Physical to finance
This isn't just true of the physical structures we will consider, but the financing, tenure, ownership or deal structures too – something, again, the banks can be very leery about.
We understand the implications of different business models or deal structures, how market demand is changing the end-product and the funding products needed: from auction finance, through bridging finance, to new build development, and everything in between. This includes complex, bespoke and hybrid structures where needed (which do whet the appetite of our property experts, if we're honest). The world does not consist entirely of semi-detached build, and it needs more than a semi-detached mindset to service these needs.
For example, when a vendor has too high expectations of the value of the land, and the developer finds it difficult to make the deal stack up at that price, vendor joint ventures are becoming a sensible approach. The vendor might put in the land, the developer brings funds and project execution, and all share in the profits - ensuring the site actually gets developed. We fund these and believe this to be a strong model in today's market.
Equally, we're seeing many tenure types, such as HMOs, serviced accommodation, co-living, housing benefit, temporary accommodation, central government contracts... to name but a few. And again, we're at the forefront of funding these because many of them we've done ourselves and know that, while they can be a headache to fund and complex to operate (putting many off), they can also be very strong business propositions.
One other trend we're seeing in the marketplace is that while landlords are getting hit with Section 24 loss of mortgage interest offset relief, many are exiting the market - presenting huge opportunity for savvy buyers. We can structure those deals where the portfolio is acquired, rolling works are done to change use into higher yielding models and even exit some of those assets to recoup equity capital used, such that the property professional extracts all the cash and retains a material part of the portfolio, which is now updated and yielding better given the repositioning of the assets.
In short, because we are property people, we can see the potential with such propositions, where others just see an unfamiliar deal that they're not prepared to take the 'risk of lack of knowledge' on. We know your market, which is why it will benefit you to get to know us.
---
---