Article 31 in a series of 40 articles on P2P, property and CrowdProperty.
The previous article lifted the lid on our non-existent lender fees. This piece explains what stretch senior finance is, and how we operate it, and the next one will answer the question as to whether we lend to less experienced developers.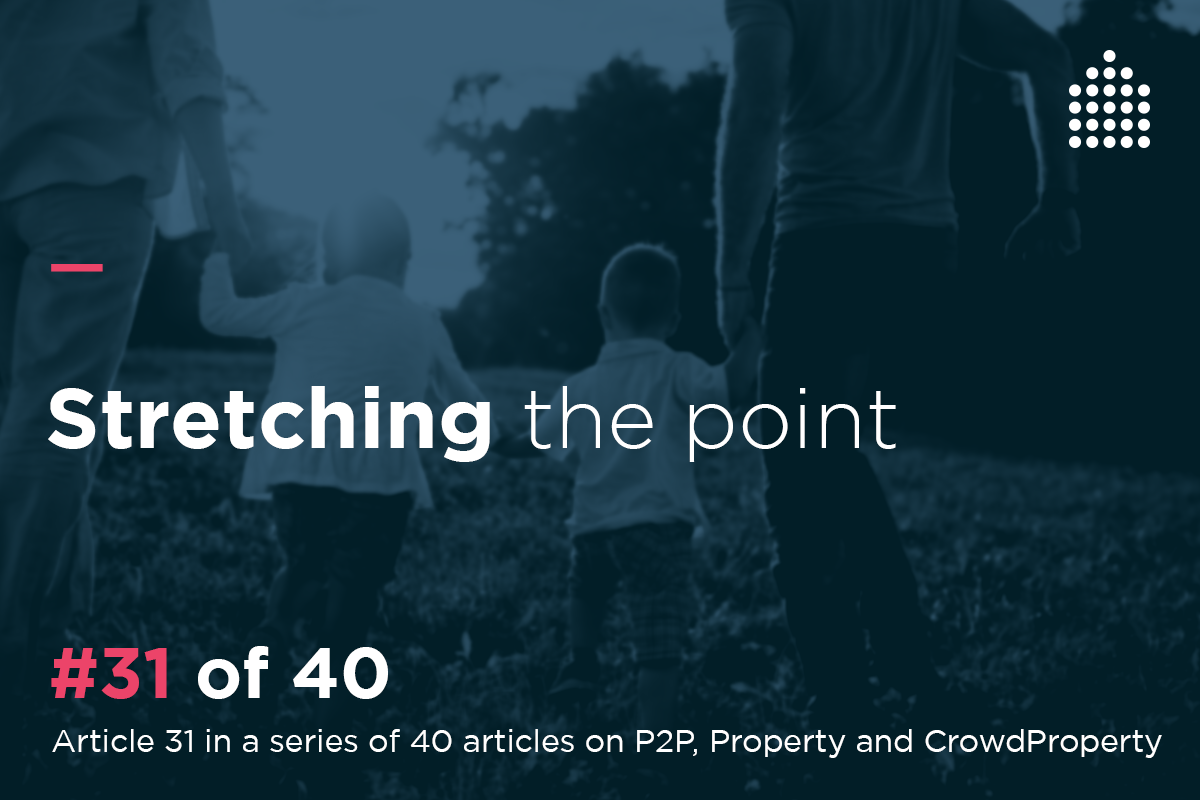 Stretch senior debt is a relatively new concept in the lending market. It's a first charge development facility, providing a higher loan to cost or loan to value percentage than does a typical senior debt facility. It's one of CrowdProperty's specialities, but in our hands stretch is much more than that: it's a quality mark for your project.
To understand stretch senior, you first need to know how the capital stack of a development project itself stacks up. At the top comes senior debt, secured by a first charge, followed by mezzanine debt, which is sometimes second charge-secured. Then, ultimately, there's equity. As you move up the capital stack from senior debt, the lender's risk increases, and therefore so does the cost to the borrower. These three components of funding for your project will, in one combination or another, get you the money you need for your property project and ultimately a 'weighted cost of capital' for your project funding.
Keeping it simple
It's often not easy for the developer to coordinate all of this stack, so we've simplified it.
Typically, senior debt goes up to about 60% of loan to value, and is always constrained by loan to cost, which generally tops out at about 75%. Then the more expensive mezzanine debt will top that up. Mezzanine can be even more expensive if it cannot be secured by a second charge, which many senior lenders do not like to grant, as they see it as undermining their claim on assets. The mezzanine potentially takes it to 70% loan to gross development value (LTGDV), but often is also constrained to 90% of costs.
CrowdProperty's stretch senior finance will fund to 70% LTGDV, depending, of course, on the nature of your project. We don't cap loan to costs either: if it's a very strong project you'll be able to borrow over 90% loan to costs. If you're putting in the initial asset, we'll lend to 100%. All that means is that you need less of the more expensive elements of the capital stack, and often one party less in that stack. What's more, we'll grant second charges to help the cost of that top up capital be more manageable.
Well-earned reputation
Our reputation for quality lending is well known in the market, which acts as a sort of kite mark to other providers of capital, both equity and debt. This is because many in the market now know that we have incredibly robust systems, processes, data and expertise, which mean we back great projects. To reinforce this, we have a 100% capital and interest payback track record, so our reputation speaks for itself. That means that when we approve a project, that kite mark can help you close that final piece of equity finance, where previously it may have been a more difficult affair. What's more, we have partners that want to specifically invest in projects that we approve on the senior debt side, who we can put you in touch with as part of this process. That's how much our expertise is valued.
How much do we charge for this? It's a nice round figure – zero. That's not altruism on our part, but an integral factor in ensuring that the projects that pass our rigorous due diligence are firstly undertaken (good projects going ahead are critical to addressing housing undersupply in this country), and also they are successful, our lenders get their money, and our reputation and business continue to expand, off the back of quality lending. That's in no small part down to the fact that the great property professionals we back return to us as their lender of first resort.
CrowdProperty manages this where others can't because we invest the time and expertise into really understanding your project. Collectively, we have decades of experience in this market, both as investors/developers ourselves and through over 5 years of financing developers. So, if we've made the decision to finance your project, it's because we have understood it and think it's strong, not because you've ticked the right boxes on an application form. What's more, we've made it quick and easy for you to get our view on your project through our very simple initial application form.
That's part of the benefit of working with us, as well as the speed, ease and certainty of funding we offer. Property finance by property people – it just makes sense.
View our Case Studies to hear how our proposition has helped other developers.
---
---