Article 27 in a series of 40 articles on P2P, property and CrowdProperty.

Previously, we explained how lenders can invest in CrowdProperty through their personal pension. This blog looks at how we deliver much needed speedy drawdowns to our borrowers, and next we focus on the financing of modular housing.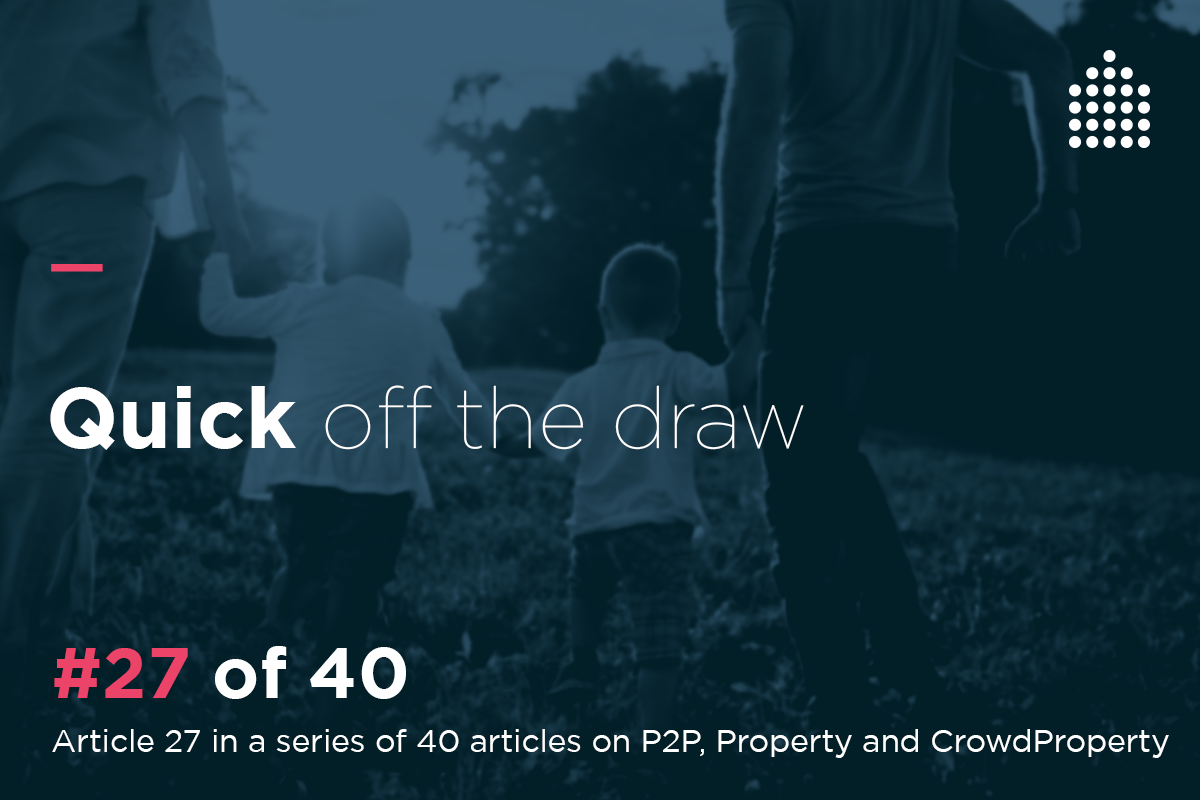 Property development finance is released in stages, and any lender will want to ensure that there is sufficient value in the project at certain milestones before releasing the cash.
That's a given. But once the financing package is agreed, the developer needs it when agreed – not around then, or when the lender's solicitor can get it together to speak to the borrower's solicitor. Materials need to be bought, wages need to be paid. And workers that are told they will be paid sometime over the next few days – not sure when – are not going to be happy workers. Developers have enough to worry about: this should not be added to the pile.
Prompt drawdown is therefore a key element in property development. So, when a drawdown request is put in, our Independent Monitoring Surveyor is sent to site to assess spend and progress. When that report on the project comes in, it becomes the most important thing to deal with in our office.
We'll get straight onto it, and release funds to your project account on the same day. Worst case scenario, it's been the next day – but that delay has only ever been because the borrower didn't answer their phone when notifying them of the funds being transferred and to confirm their bank details. It's necessary to have stringent security in place when it comes to handling money, and nothing should circumvent this. But, normally, it will be the same day. That's because – as we never tire of explaining – we've been in your shoes. We understand how vital prompt provision of finance is to a project.
Our experience has told us many things – one of the most important things being how to keep a project moving, especially across the many parties involved. When it comes to contractors and suppliers, there's no better motivating language than cash... and, conversely, none more demotivating than lack of it.
Amazed
It therefore amazes us that many funders don't see this in the same way, and have a somewhat more lackadaisical approach when it comes to timeliness.
What's not standard for so many funders is recognising the importance of speed of drawdowns during a project. This was highlighted in a discussion we had not long ago. One of our advisers at CrowdProperty is the former CEO of a challenger bank. We spend time with him to help shape our business. Recently, something came out in conversation: something that we did better and differently, but thought it was so obvious that we didn't think it was different – our drawdown speed. This, according to the former CEO, is a rarity. Which, when you think about it, is shocking.
At CrowdProperty, we don't just rely on our decades of experience dealing with the frustrations of raising finance but keep close to the latest needs, trends and pains to bring you the best products and service in the market. We conduct a lot of research on the borrower side: in fact, we've only just finished the largest survey of SME property professionals ever - the results of which will be published soon, so please watch this space.
This is yet another example of the benefit of working with property people for your funding: we know what's important to you and the project, and we deliver with the speed, ease and certainty you should expect from your funder.
Don't wait to find out how others do it – speak to us today.
---
---