Article 19 in a series of 40 articles on P2P, property and CrowdProperty.
The last article took a detailed look at how we stress test our loan book. The diverse sources of our loan capital are reviewed below, and next we'll explain why liquidity is so important.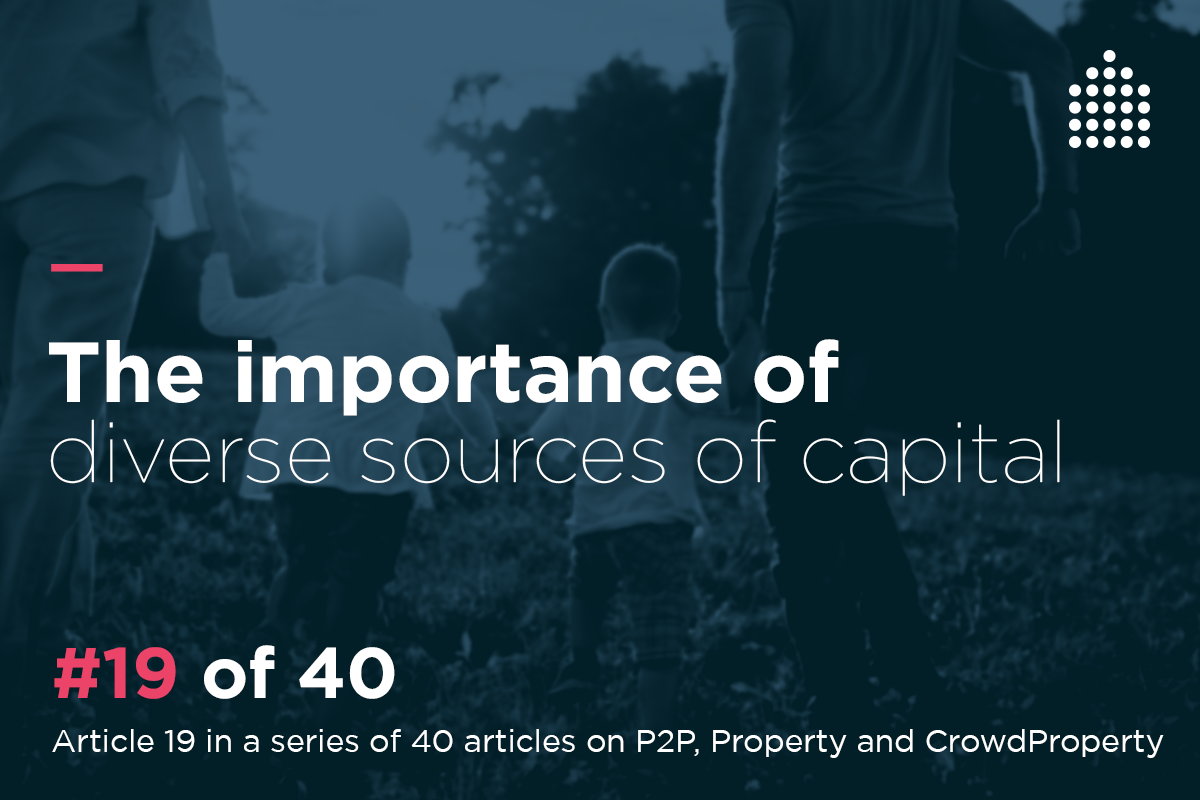 The great thing about markets is you get to choose the level of service you want – although a corollary of this is that not all choices are wise.
For example, you have a range of hotels from which to pick; from cheap and cheerful unrated places to luxury offerings with their own helipad. But if a hotel asks you to bring your own bedding, you know you're really slumming it. Unless you're researching your own alternative to Alex Garland's The Beach, actively seeking out the most roach-ridden flophouse you can to discover the authentic traveller experience, you'd be best advised to try somewhere else.
It may well be that such places do not exist. But their equivalents in the world of peer-to-peer lending platforms do – we hear from property developers about operations who claim they will provide some of the investors, if the developer can muster the rest.
For the platform, it's a wonderful business model. After all, you don't need that much capital (the borrower will provide that), just a website and a whole load of chutzpah. It's like running a sandwich shop where the customer has to bring their own fillings. But in a world where cereal cafes are a thing, there may be a market for anything.
With platforms, as with hotels, you'd be best advised to try somewhere else. Fortunately, alternatives are available.
Varied capital
Take CrowdProperty, for example. We have reliable, repeatable and complementary sources of capital from individual investors, high-net worth investors and institutions. As a platform, that's important to you in much the same way as a diversified portfolio is important to an investor – each has different drivers, so with more sources your capital flow is smoother and more reliable. If you're reliant on one single investor (or single institutional line), and that investor, for whatever reason, goes – then so does your funding.
But the borrower, the property professional in our case, shouldn't and doesn't care so long as the capital is there when they need it (and there are backup sources in case). Importantly, we have a proven track record in ensuring this. Having a reputation for reliable funding means that people and institutions keep coming back with their capital, because they know it will be deployed. That's another example of our virtuous circle.
CrowdProperty is widely recognised as being one of the best, most expert, transparent and accessible lending platforms in the peer-to-peer lending market – not just within property P2P – with a perfect lending track record. This is important to you, as a property professional needing to raise funds, because such recognition not only brings plentiful capital for your projects from our complementary and reliable sources of capital, but also recognition that your project is approved and funded by the best in the business. Indeed, an inherent feature of crowd sourcing capital is the ability for a developer to build their brand with large numbers of investors – and, with CrowdProperty, that's across thousands of retail lenders, HNW lenders and institutions. This has huge additional benefits for raising mezzanine and equity capital too (although mezz is rarely needed given our stretch senior offering). That's why we lead the space and our many projects fund in minutes, if not seconds.
'You had one job…'
There's a fundamental division of labour involved in property finance and development. Your job is to develop property. You should never be expected to bring your own capital, as many platforms expect you to. Alongside all the regulatory requirements, the brand building, the speed, ease, certainty and so on, the function of the funding platform, at the most fundamental level, is to provide you with capital.
We do that, and we can prove we do it well. Don't waste time on those that don't.
---
---