Article 32 in a series of 40 articles on P2P, property and CrowdProperty

The last article explained CrowdProperty's stretch finance proposition. Here, we look at our attitude to less experienced developers and next what third party experts say about CrowdProperty.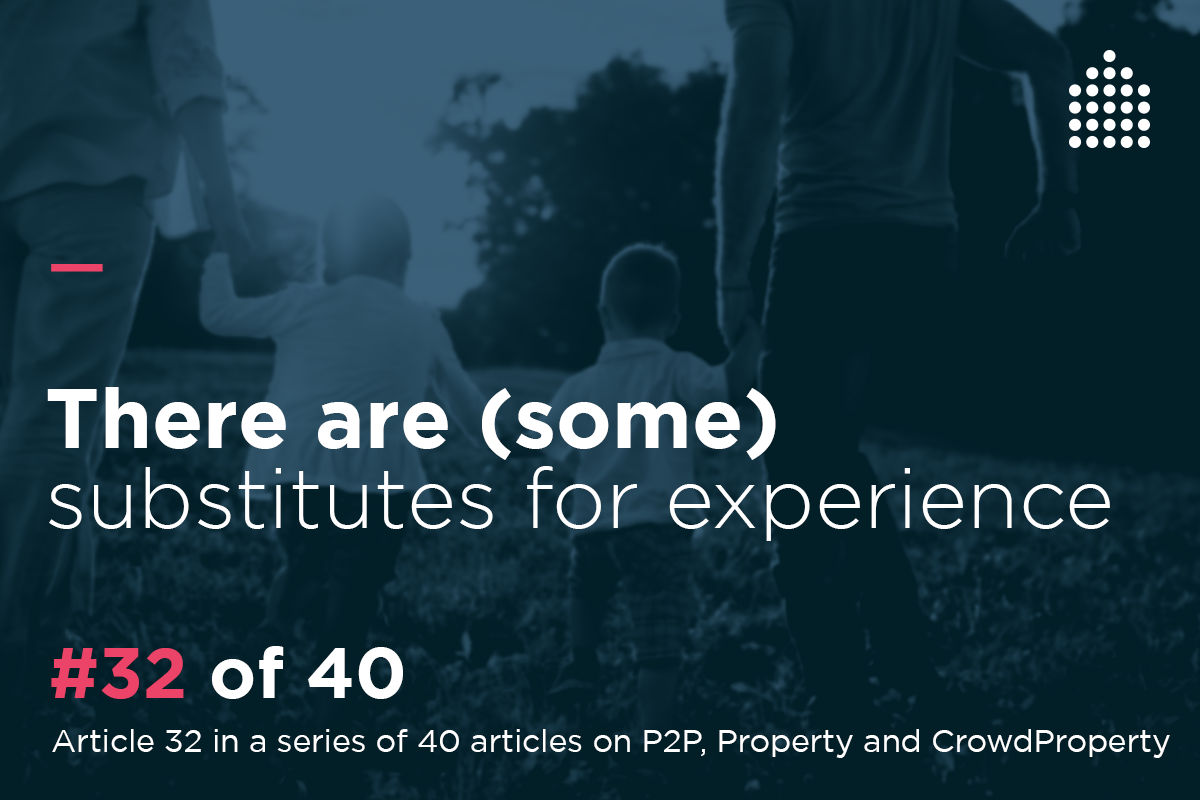 "A journey of a thousand miles begins with a single step": Laozi
We don't generally start off our blogs with quotes from Taoist philosophy, but it seemed apposite, as we're often asked if we only lend to experienced developers. After all, we're known for only accepting the highest quality projects.
Nevertheless, everyone has to start somewhere. Before he was even a wunderkind, a young Warren Buffet had to pick his first stock. And track record is no guarantee of success, as Neil Woodford will no doubt testify.
While we obviously need something to base our decision on, you don't necessarily need to be closer to step 1000 than step one in your journey as a property developer to deliver a successful project.
Experience is important. But a 'tick box' approach to experience, like many lenders have, is not the be-all-and-end-all to good property lending. We've personally heard traditional sources of lending ask for evidence of up to five similarly sized projects, completed within the last 24 months, within a few miles of the new site's postcode. That narrows the field to virtually zero, and stunts the supply of housing into the market.
We see many talented and passionate property people moving from investment into development, with demonstrable commitment, passion, ambition and expertise to be able to deliver. Take Mo and Philip, for example, in the video below:
First steps
This was Mo and Philip's first full blown property development project. So why did we back them? First of all, strong relevant experience. The borrowers are a team of architects, building surveyors and project managers. They have formed a new JV vehicle called KHP Investments Ltd. They came along with a team that may not have fitted all the tick boxes, but was a compelling overall package.
Philip himself is an architect with more than 30 years' experience of running his own practice specialising in residential and commercial property development and conversions. Other team members were: a building surveyor with 10 years' experience working on both refurbishment and new build projects and a specialist in timber framed buildings; an experienced construction project manager with multi-million pound commercial developments for a national construction company among other projects under his belt; plus a further experienced project manager, specialised in leading large, global change initiatives for multi-national financial institutions. The team have between them a portfolio of eight HMOs with some 40 room houses and flats.
We liked their proposition. And, as they explain in the video, they liked our way of operating. As Mo says, we "understand your needs as a developer and the way to mitigate risk", and are looking beyond the "facts and figures and numbers" to a "more holistic picture of the people behind the deal". Our assessment proved right: they finished their first project with us on time, on budget, and even repaid ahead of schedule.
This isn't because CrowdProperty took a lucky punt. We are property experts who work to understand each and every deal we are approached with. We want to understand both the skillset of our borrowers, and their motivation – will they dig deep when the challenges come? If we like the project but aren't quite convinced the team has all the skills necessary to see it through optimally, we'll say what we think is missing, so you have the chance to fill those gaps. Those pulling together a strong 'power team' bringing together the recognised skillsets have not only a stronger story but a stronger likelihood of success. That helps the project, helps the securing of finance and increases the likelihood of problem-free repayment of that finance. Which is what we all want.
What's more, they see CrowdProperty as part of their power team – a lender with deep expertise in exactly what they are doing, acting with a value-adding, partnering approach. After all, we all want the project to be a success.
We love happy endings. But we also love sequels. Mo and Philip are now part way through their third project with CrowdProperty, and about to embark on a fourth. They may not have done anything if it wasn't for CrowdProperty taking a good look at the broader picture of not only expertise but also those all-so-important commitment, passion and ambition human traits.
If you have the commitment, passion and ambition to dig deep if needed, but are worried that your experience doesn't tick all the boxes, speak to us. We are here to help.
---
---