Article 30 in a series of 40 articles on P2P, property and CrowdProperty
In the last article, we looked at the importance of strong and well proven origination of lending opportunities. Here, we take you through our lender fees (spoiler alert – there are none). Next, we'll explain what stretch senior finance is.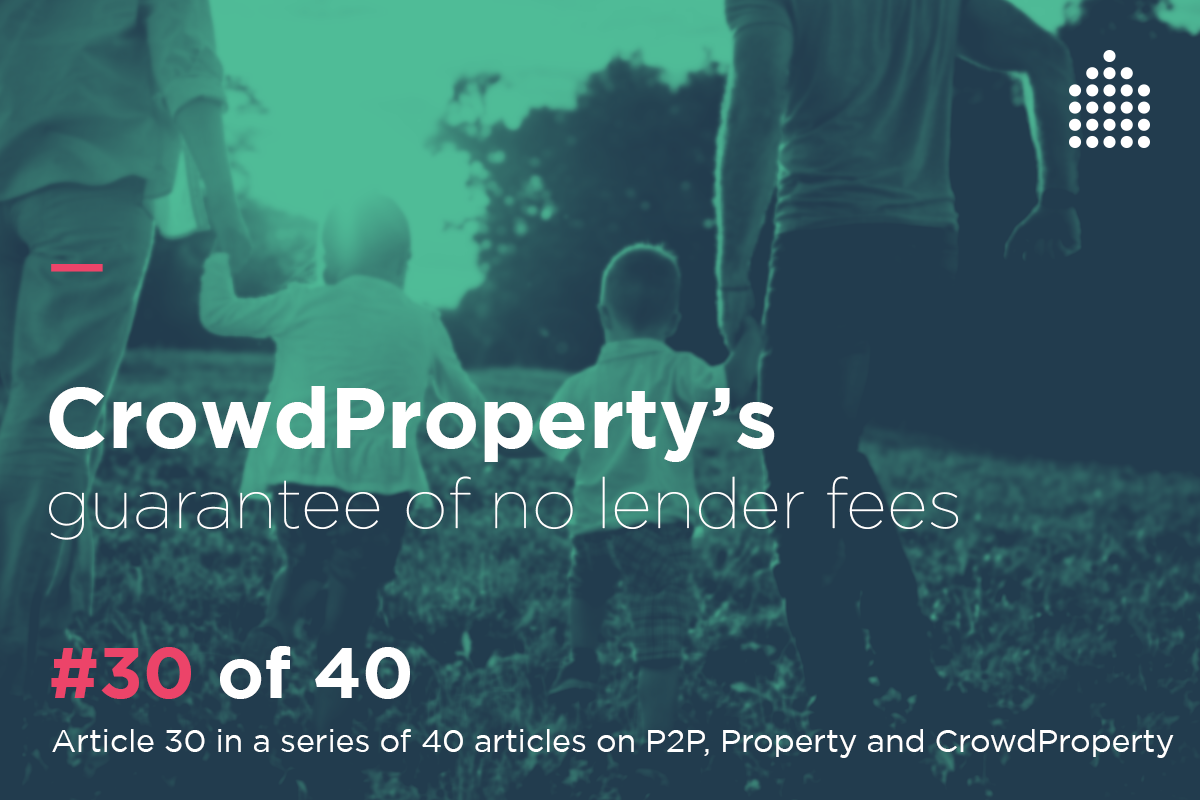 If you try to enter the website of an authorised investment firm, you are first faced with a lengthy T&Cs list, disclaimers, and so on. At the end, you tick a little box that says you've read them. Ditto if Amazon updates its T&Cs. Have you read them? We doubt anyone has. We could have all signed away our immortal souls to Jeff Bezos, for all we know. Something to think about next time you're watching Lucifer on Amazon Prime.
There's a satirical news site – the Daily Mash – whose cookie options are either 'more options' or 'whatever'. In present day politics, possibly the only thing that allows you to distinguish between reality and satire is this 'whatever'. But every site could substitute 'I accept' for 'whatever', and it would be a fairer rendition of the state of affairs. After all, who has the time? We live in a world dominated by the dead hand of small print that we have no time to read, but probably really should.
Nothing on anything
CrowdProperty has saved you one aspect of death-by-small-print: we have no lender fees. None. Zero. Not on our ISAs, our Pension accounts or our AutoInvest (we cover the administration costs of holding, investing and even transferring funds into and out of your accounts). In this world, the borrower pays – and even here, our fees are few and lit up in neon. We hide nothing.
Neither are we making a crafty buck elsewhere, such as in the spread between lending and borrowing rates. For example, have a look at many of those currency exchange shops you see in tourist areas, trumpeting 'no commission fees'. Sure, there's no commission fees, but you might come out wondering if a one-for-one swap on pounds sterling and Turkish lira is a true and fair reflection of market rates.
There is, of course, a spread: we couldn't run a business otherwise. You can see what that is – and has been for every year we've done business – on our statistics page. But, as we've demonstrated earlier, the spread CrowdProperty offers is tight enough to be a fair reflection of the risk embodied in the loans: the lion's share of repayments goes straight to you, the lender. The ethos of the P2P lending industry is to deliver the efficient matching of supply and demand of capital to deliver a better deal for borrowers and investors alike.
There was a time when we did charge lender fees - although this was purely recharging our third party administration costs on ISA accounts. However, we constantly listen to both lenders and borrowers, and the former made it clear that they didn't care for them as some platforms were moving more towards bearing these since our ISA launch research. So we stopped them – all of them – overnight. What's important to note here is that there was not a commensurate downward shift in our lender rates, which stayed the same.
With CrowdProperty, you know that the rate we quote does not then suffer fees. And we wouldn't retrospectively apply them on deployed capital, as has also happened in the market. And that's a promise.
Find out more about investing with CrowdProperty.
---
---