Article 8 in a series of 40 articles on P2P, property and CrowdProperty
Article 7 covered our painstaking due-diligence process. Below, we explain what sort of developments we lend to, in terms of property types and deal structures. In article 9, we'll look at the rates that CrowdProperty lenders receive and recent changes to those to compete for more secure loans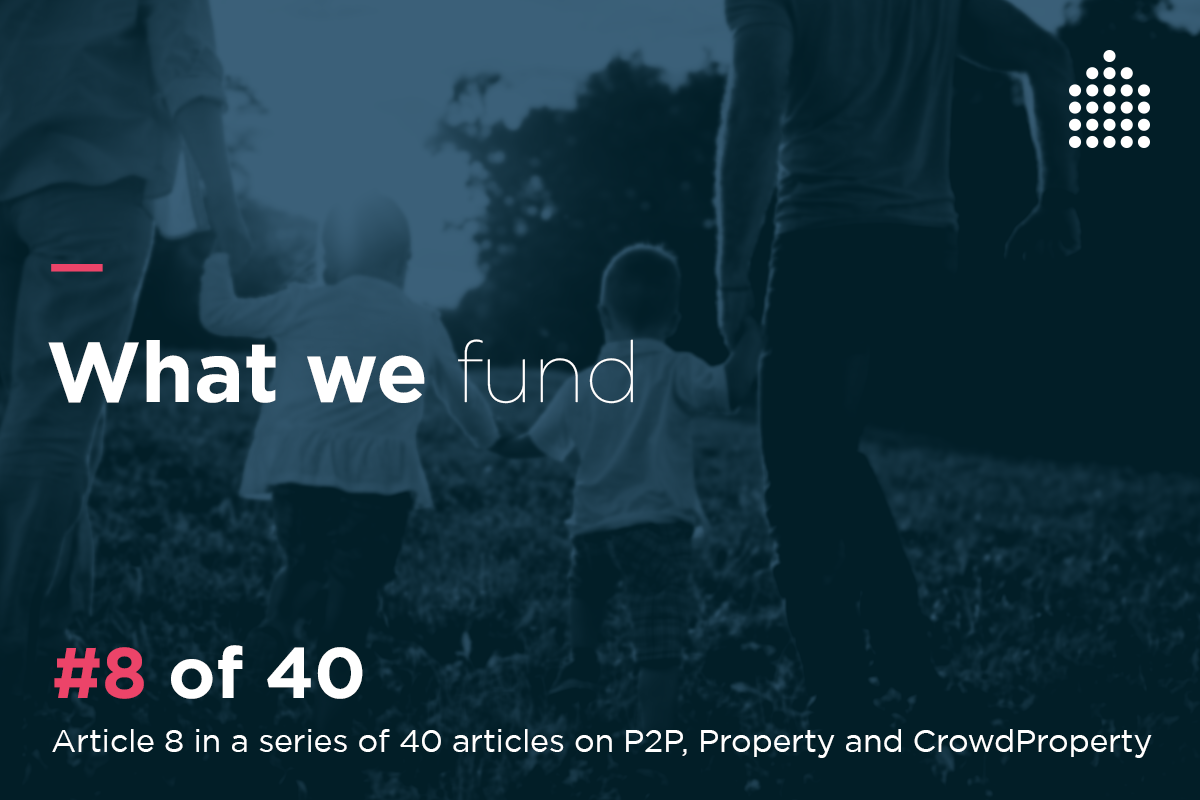 An infamous way to annoy people working in pound shops is to ask them how much something costs: the loo cleaner? "A pound, ma'am." These wet-wipes? "A quid, sir." That jumbo bag of dried spaghetti? "One hundred pennies exactly."
It must drive them mad. We know how they feel. We get asked all the time, 'what sort of property projects do you finance?' And the answer is always 'everything except your buy-to-let mortgage'.
We are property experts specialising in short-term projects, providing stretch senior finance of up to 98% of costs for SME property professionals undertaking any type of property project. What do we mean by short term? Anything between six and 24 months that's not term finance. Basically, we fund anything that gets you to 'steady-state' – whether that's selling the finished asset or refinancing it to keep and let out (to whatever tenancy product you're designed it for).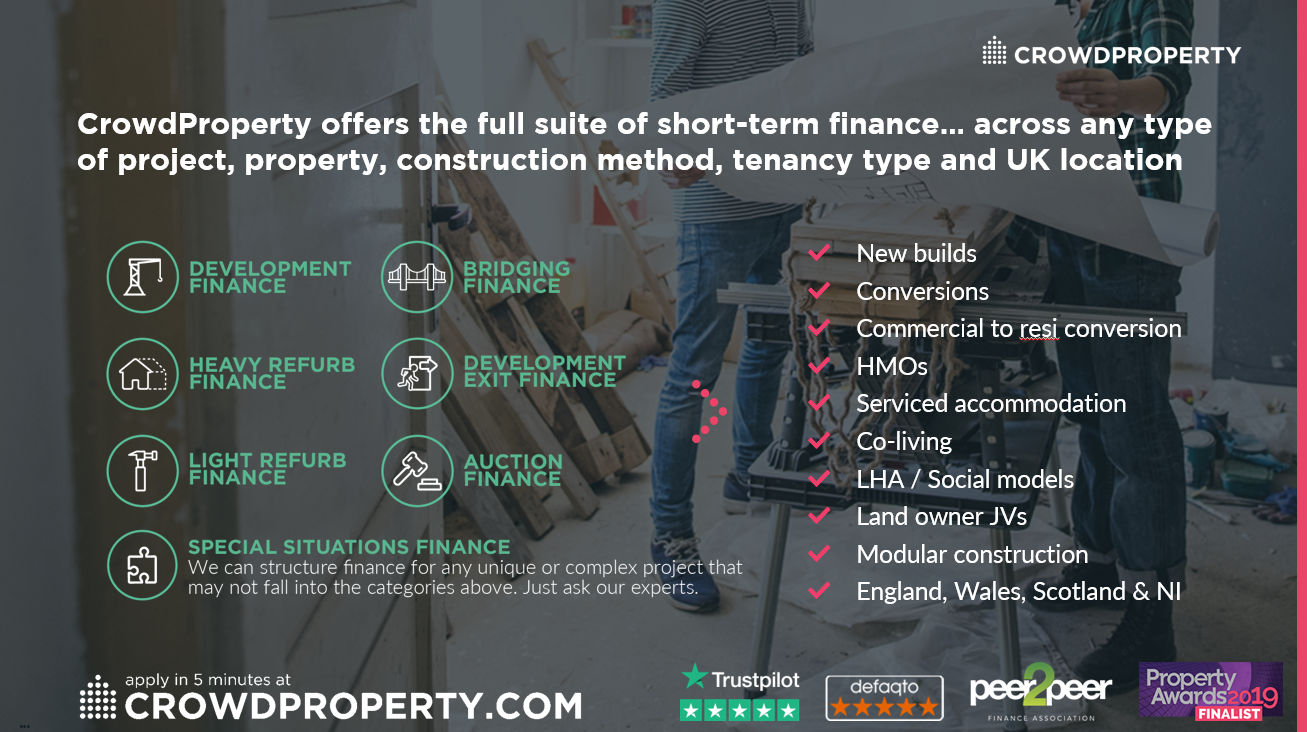 All sorts
We lend to every type of project out there… and if it doesn't have a pigeon-hole, our experts will create the perfect structure that best suits your needs:
Development Finance: supports new build development or projects that significantly add to an existing property. A drawdown and raise structure will be designed to fit your project timeline. Up to 70% LTGDV including interest-based, with up to 70% LTV on initial purchase/value and 100% of development costs.
Heavy Refurbishment Finance: for major refurbishment projects which do not add significant floor area to the existing property, with costs of up to around 50% of the market value of the project. A drawdown and raise structure can be provided. Up to 70% LTGDV including interest-based, with up to 70% LTV on initial purchase/value and 100% of refurbishment costs.
Light Refurbishment Finance: for modest refurbishment, with costs of c.15%-50% of the market value of the asset. In additional to residential improvement projects, conversions to HMOs and other end-usage types are most likely to fall within this product. Up to 70% LTGDV including interest-based, with up to 70% LTV on initial purchase/value and 100% of refurbishment costs.
Bridging Finance: to help you secure a property purchase quickly, span stages through a property project, unlock capital from an asset or fund a lower level of works. It is structured in a single drawdown and can be serviced with monthly interest-only payments, with an option for rolled up interest if appropriate. Up to 75% LTV, secured by First Charge.
Auction Finance: we fast-track completion to guarantee delivery of the finance you need within tight auction timescales. We have the expertise, systems and capital so you have the finance in place quicker than you need it (with appropriate time contingency as there's a lot at stake). Up to 75% LTV.
Development Exit Finance: to bridge the period between finishing (or almost finishing) a development project, releasing the commitments of a development finance or bridge loan and providing breathing space to achieve the best exit. Up to 75% LTV.
Special Situations: if it doesn't fit any of the other boxes, it'll probably fit here. For unique, often complex projects that may not fall naturally into the lending categories above. As experts, we will review any situation and can develop blended product or customised funding proposals based on the specific needs of a project. No project is too complex for our in-house property specialists. Go on – test us.
Not only do we offer the full suite of short-term finance types, but as experts who stay at the very cutting edge of property market trends, we'll fund any property-type, construction method, tenancy type and UK location, illustrated on the right-hand side of the image above. If in doubt ask and worst case if in the unlikely event it does fall outside of our exhaustive scope, we'll know who could help (and we won't take any referral fee – we're here to help).
Speed, ease and certainty
Because we know the market, we won't take an age to mull over something because we're not familiar with it… before either turning it down or lending you less and charging your more because it's difficult to understand. We give credit for smart deal structures because we understand them. We also know that speed, ease and certainty is rare in the market because we've been there and that's why we founded CrowdProperty. Delivering on these is not just helpful, allowing you more time to grow your property business, but it can also get you a better deal with a vendor… and therefore us better security – it just makes sense all-round.
What we offer is bespoke – each deal fits your needs and requirements; we won't try and squeeze you into a box because it suits how we do business. That's true across all the loan categories above, not just special situations, and we are no more expensive because we offer such tailored solutions to our borrowers (and why we often hesitate using the term 'bespoke' because it's synonymous with expensive). We are here to best support you and your business.
---
---