Article 9 in a series of 40 articles on P2P, property and CrowdProperty
Article 8 explained which developments we lend to, in terms of property types and deal structures. Below, we explain how we ensure we offer our lenders the best possible rate, and next we'll be looking at the different ways you can lend on the platform.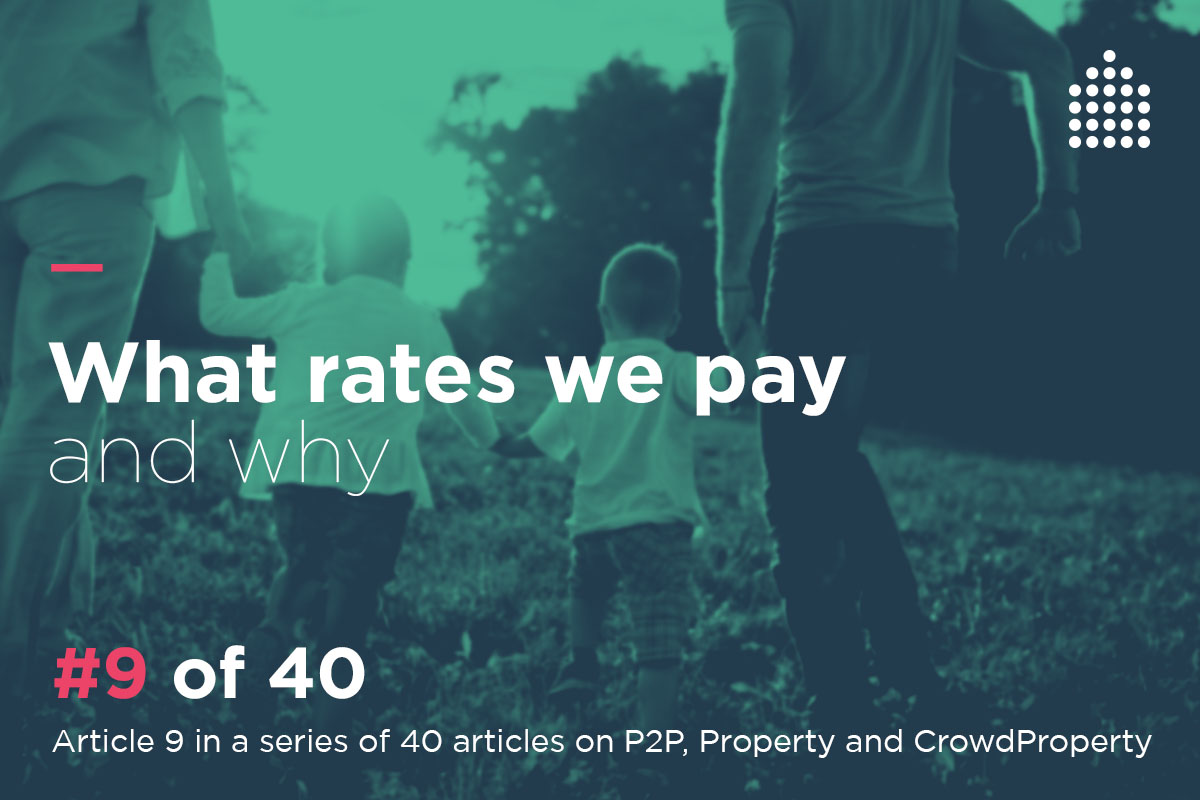 CrowdProperty offers a range of high-quality loans against property projects to lenders, paying between 6.5% and 8%, depending on the risk profile of the underlying projects. Currently we're paying 7.7% on average through August 2019. That's more than double the UK peer-to-peer average of 3.77% according to market analyst Brismo.
We do everything we can to get you a great rate on the best projects available.
Broadening the market
Prior to 2019, this was a very simple proposition – whoever you lent to, we gave you an 8% return. But we encountered two problems – although good problems to have for a growing business, just as long as we were able to resolve them.
The first was that we were having to turn down a number of very good projects because we were asking for too high a rate for projects that offered exceptionally good security. Though the developers liked our proposition, they could access funds at a lower rate than we could offer.
The second (not entirely unrelated) was that we had lenders clamouring for more loans, as the existing ones were filling up so quickly (some within seconds).
The obvious answer was to broaden the market. Risk should be correlated to rate, as we explain here. We could move up the risk spectrum, or we could move slightly down. We are more comfortable to do the latter, as this stays within a probability of default that we – and we think our lenders – are more comfortable with. Indeed, it lowers the overall risk profile. As a result, if you look at our detailed stats page, you'll see that our measure of initial risk exposure, loan to current market value, has fallen from 66.8% in 2017 to 60% year to date.
When we announced this there was a certain "uh-oh, we've seen this before" reaction from some of our lenders, who have experienced rate squeezes elsewhere in the peer-to-peer lending market. We want to stress that this isn't what's happening here: this is not a situation where loans with the same risk profile are now offering a lower rate of return, but where we have broadened out our loan selection to offer some more secure (and therefore lower-risk) loans at a lower rate of interest.
The tide isn't going out
This isn't so much a question of the tide going out and all boats sinking, but being on a canal lock, with some boats higher than others. There are different levels, but the boats are static. That's probably not what you want from a canal lock if you want to get from A to B – no metaphor is perfect – but is a pretty good result for lenders wanting a diversity of choice.
If you are a SelfSelect lender and you want to opt for just loans paying 8%, you can still do this. Nothing has changed. Equally, you can opt for loans just paying 7%, although this may not be the best way to build a lower risk portfolio – something we'll discuss at greater length when we talk about diversification. Depending on what parameters you select with AutoInvest, you may get a lower rate, but with lower risk loans and a higher degree of diversification. It's down to you – just as it always has been with CrowdProperty.
One thing's for sure: we continue to offer the best deals at the best rates possible to our lenders.
---
---