Article 10 in a series of 40 articles on P2P, property and CrowdProperty
The previous article looked how we ensure we offer our lenders the best possible rate. Here, we explain the different ways you can lend on the platform, and next we'll take an end-to-end view of the borrowing process.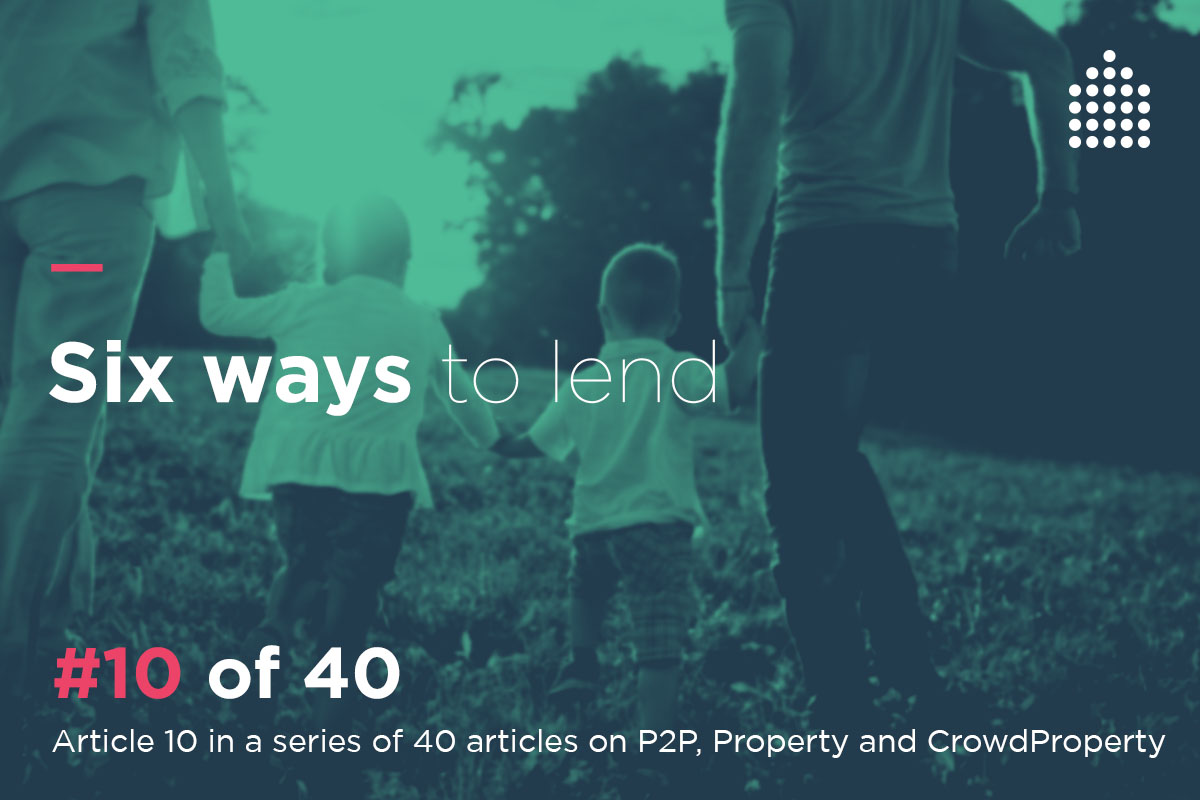 Lending on CrowdProperty can be a bit like trying to buy Glastonbury tickets. Not in the sense that the end result is spending five days looking for your tent on Worthy Farm, but that everything sells out incredibly quickly, before you can execute your choice.
We are a great believer in 'you pays your money, you takes your choice', but when you're as popular as this the trick can be paying your money to start with. In order to help our investors get round this, we developed AutoInvest alongside SelfSelect.
Two ways to invest
Since we began in 2013, we've been offering SelfSelect, where lenders can choose the project they lend to. You view the available projects, decide which you prefer and commit your capital – a minimum of £500 for any given project:

Our analytics and lender research, however, found that while some people liked to do their own deep due diligence and select projects themselves, others preferred to spread across every listing because they knew how rigorous and expertise-led we are in selecting projects. What's more, over the last 12 months, CrowdProperty projects have been funding extremely quickly and people were finding it frustrating that they were missing out because they couldn't be online as soon as the project listed. Hence the frustration held in common with would-be Glastonbury goers.
We therefore built AutoInvest, which allows customers to spread their funds across many projects easily, with a minimum pledge of £50 per project and a minimum total investment of £500. A percentage of every project launched will be allocated to AutoInvest; this will vary depending on project size and uptake. You can specify the maximum amount you'd be willing to pledge towards any one project, and we guarantee to never exceed this.
We're constantly evolving AutoInvest with the introduction of a 'skip next project' setting and AutoReinvest, allowing a simple setting to be toggled to reinvest any capital or interest paybacks. This not only makes it stress-free but also allows for greater diversification, which is a fundamental principle of controlling your risk when investing.
Three pots for the returns
That's the two fundamental ways of investing. Each of those investments can be held in one or more of our accounts: Standard, ISA or SSAS/SIPP Pension – ensuring we're giving you as many tax-advantaged lending options as possible.
So, while having six lending options sounds a tad complicated, it really isn't: you decide whether you want to do your own research and choose specific projects, or you rely on our extensive property expertise and rigorous selection process, and let our algorithm do it for you, without having to be poised over the keyboard at inconvenient times.
Then it either goes into the Standard lending account, or you can put up to £20,000 a year into an ISA account (as well as transferring your existing ISA pots into your CrowdProperty ISA) and have your up-to-8% interest protected from the tax man, which is a very popular option with our lenders. Alternatively, you can also tax-shield your interest through a pension account, in either a SSAS or SIPP, something that we're seeing become increasingly popular on the platform.
So there you have it: two ways of investing; three pots to put the cash into – all in the best interests of your needs, preferences and allowances. No wonder it's popular.
Read more about lending with CrowdProperty here: https://www.crowdproperty.com/lenders
Find out more about CrowdProperty's Innovative Finance ISA: https://www.crowdproperty.com/IFISA
Find out more about SSAS/ SIPP Pension lending through CrowdProperty: https://www.crowdproperty.com/pensions
Discover the benefits of AutoInvest: https://www.crowdproperty.com/autoinvest
---
---