Article 33 in a series of 40 articles on P2P, property and CrowdProperty
The last blog explained how we're positive on new developers with a good proposition. Below, we show what others say about CrowdProperty, and next we look at what that (positive) market perspective means for you.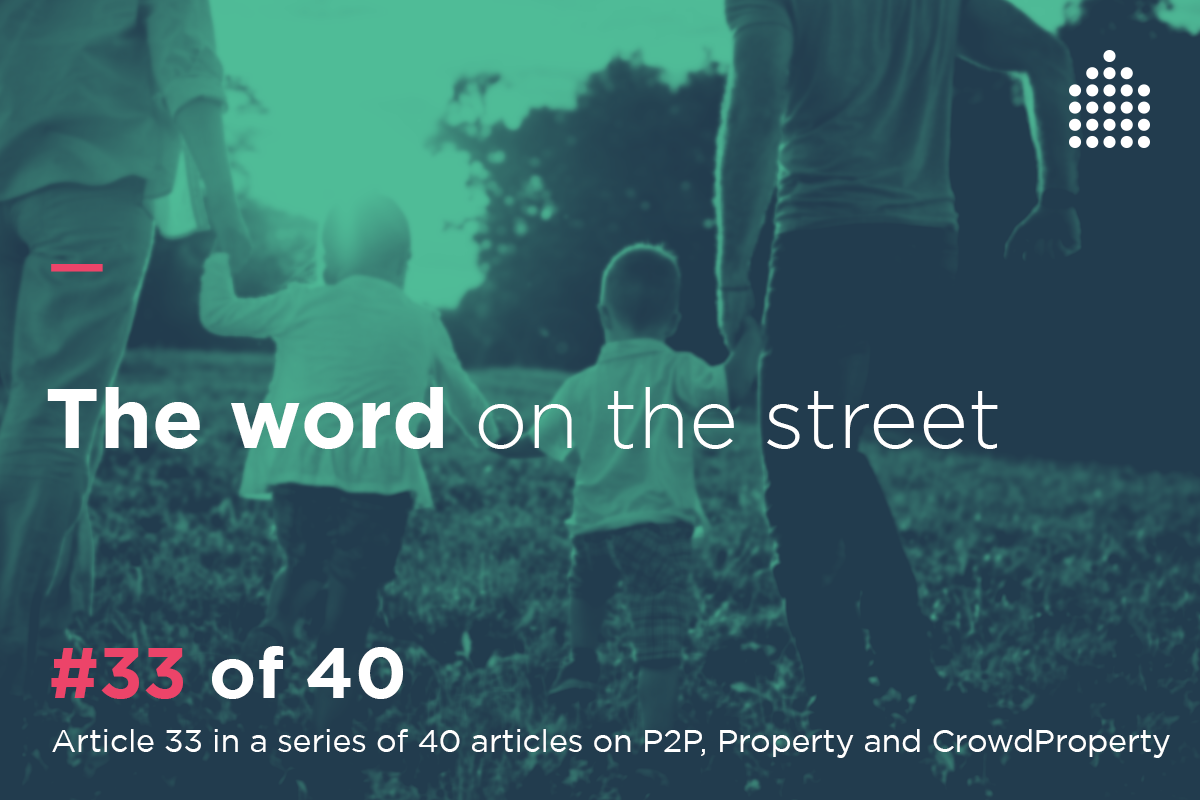 At CrowdProperty, we think we do a fine job both of providing great rates of return to our lenders and being a lender of first resort to property professionals. Ultimately, however, it's not what we think, but how others view us. In the final analysis, that's borrowers and lenders.
However, we're not part of that trend that dismisses expert opinion – our edge, after all, is that we are property experts. It's heartening, therefore, that other experts in this market also rate CrowdProperty. So, after tussling with a misplaced sense of false modesty for all of 30 seconds, we thought you'd like to review the expert assessment of our proposition, so you can see what all the fuss is about.
Positive feedback
According to platform aggregator Brickfunding – which also rated us number one property platform globally – "CrowdProperty is a premier lender offering rigorously selected real estate projects that are always backed by the security of the first charge. In fact, it has an impressive track record of repaying loans and paying 100% interest to investors. In terms of the company's solvency and soundness, in addition to its excellent track record, the company has recently closed a £1.1 million round of capital funding."1
"CrowdProperty is a hidden gem in the Peer to Peer lending market – offering above average returns for safer, medium-term loans," says P2P review site Obvious Investor2. Also from Obvious Investor: "CrowdProperty is laser-focused on low-risk loans, and benefits from a lending team with over 100 years of lending experience. Loans are vetted very thoroughly, evidenced by the fact that to date, all loans have been fully repaid. No lender has lost money in the 5+ years they have been in business."
Neil Faulkner, co-founder and chief executive of 4th Way, a leading independent peer-to-peer lending market commentator, said: "The key people at CrowdProperty have clearly demonstrated the talent and deep experience needed to properly assess complex development projects, monitor them, keep them on track, and take steps when things go wrong. I believe they are fanatical about maintaining quality."
And from David Williams on Trustpilot, which rates us 'excellent' (five stars): "This is an organisation with integrity, reliability, highly experienced in the property market, has transparency and provides an excellent service. There are no shortcuts or shenanigans as you have with large financial institutions. I hope they are here for the long haul and we can all enjoy the benefits of their service for many years to come."
From global P2P platform aggregator Welltrado: "Proven that its processes are robust, its platform stable and its due diligence rigorous, as well as confirming its commitment to transparency and client focus."
We have also featured positively in a wide range of media: The Financial Times, The Times, City AM, The Daily Mail, FT Weekend, The Sunday Times, Which?, Investors Chronicle, This is Money, Business Life, Die Welt, Forbes, Property Week, EG, Development Finance Today, Property Investor News, YPN, PropertyTV, AltFi, PlaceTech, UKTN and Angel News.
Awards
Last, but not least, please cast an eye over the highlights of our awards cabinet:
Property Week Property Awards 2019 - Finalists in 'Lender of the Year' and 'Proptech Innovator of the Year'
MoneyAge Awards 2019 – Winner of 'Specialist Investment Provider of the Year'
Moneynet Awards 2019 – Highly Commended in 'Best Innovative Finance ISA Provider'
AltFi Awards 2018 – Runner-up in 'Best Clarity of Data' Award
Peer2Peer Finance News 2018 & 2019 – P2P Power 50 List
If we could be so bold as to reiterate one comment that sums up our fundamental focus, we are very proud that such a reputed commentator highlighted that 'I believe they are fanatical about maintaining quality'.
Visit the CrowdProperty website to see for yourself.
1 https://www.brickfunding.com/platforms/crowdproperty/
2 https://obviousinvestor.com/crowdproperty-review/
---
---