Article 22 in a series of 40 articles on P2P, property and CrowdProperty.
We last looked at why you may wish to consider the Innovative Finance ISA for your CrowdProperty lending. Here we take an overview of how the P2P trade body safeguards the interests of retail customers in P2P lending. The next article explains why we believe staying on top of the latest trends in the property market is so important – and why banks find it so hard to do.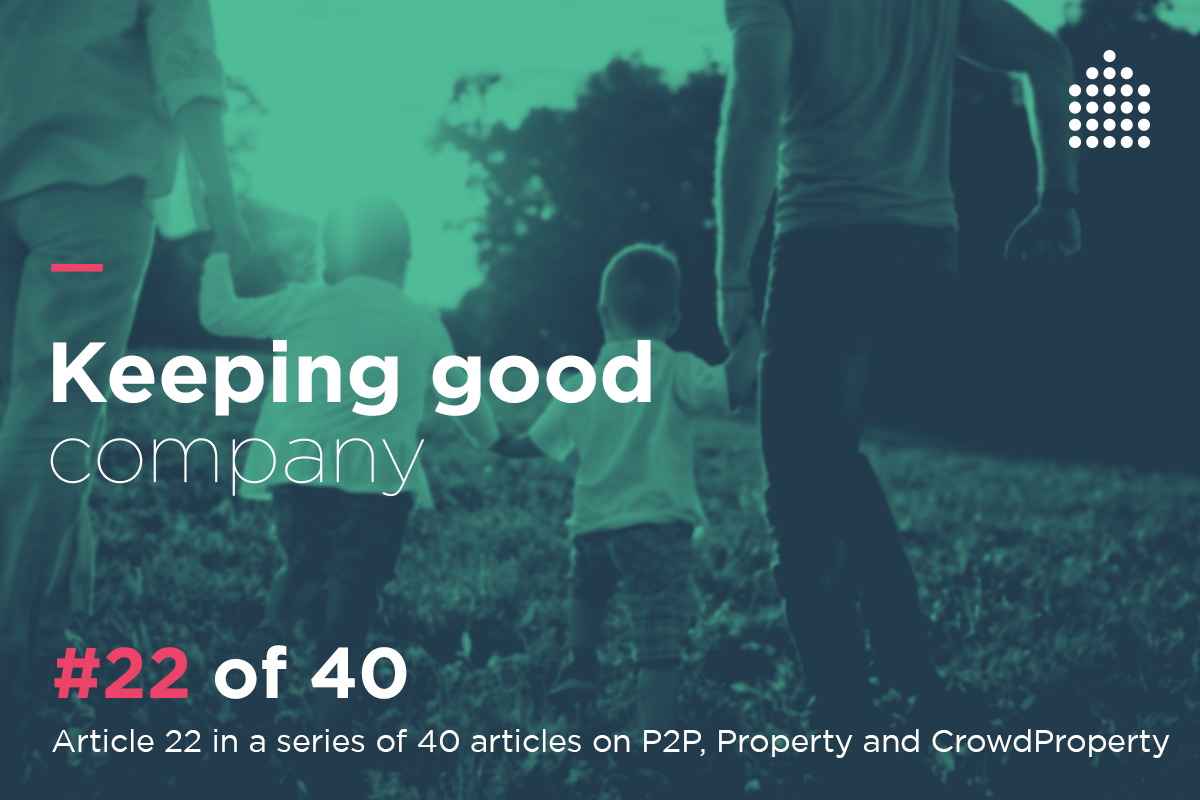 Groucho Marx once said that he wouldn't join any club that was prepared to have him as a member.
At CrowdProperty, we too are choosy about the company we keep - and want to ensure that our associations reinforce the best practices in alternative finance. That's why CrowdProperty became an active member of the Peer-2-Peer Finance Association (P2PFA) and is now a founding member of the P2PFA's successor, 36H Group.
As it described itself, the P2PFA was the representative and self-regulatory body for peer-to-peer lending in the UK. It aimed to "inform and educate, promote high standards of business conduct, and work with policy-makers and regulators to ensure an effective regulatory regime". This was a select organisation. Indeed, CrowdProperty was the only property development lender to be a member of the P2PFA.
With the majority of its Operating Principles included in the new enhanced regime, the P2PFA has achieved its objective of ensuring robust and appropriate protections for consumers. The 36H Group will focus on policy and regulatory matters and promote the benefits the sector is delivering; including bringing choice, competition and transparency to the lending and investment markets.
Requirements
It's not easy to become a member of the P2PFA. Every candidate organisation has to be first considered by the chair and an independent director before being recommended to the board, after which the board votes on whether to accept the applicant. Member organisations include mainstays of the P2P world, Funding Circle and Zopa.
Applicants have to satisfy stringent conditions in order to be admitted. Under competence, honesty and integrity, platforms are required to:
demonstrate full compliance with all statutory regulatory arrangements applicable to them. This includes, but is not limited to: marketing and promotions; anti-money laundering and fraud prevention; client money management; and bad debt recovery.
carry out and publish analysis used to test for resilience in the event of adverse scenarios, including the range of expected losses in these scenarios. You can read how we do this here.
not discriminate unfairly between any category of lender. In particular, they should not operate in any way that disadvantages retail investors. This is very important because it ensures that large institutions don't get to cherry pick loans, leaving retail lenders with the leftovers.
not seek to conceal loss rates by use of their own capital to finance loans. So you know that any reported loss rates are a true reflection of the platform's lending criteria.
On transparency, we are required to:
set out in a clear and balanced way the information necessary to enable customers and prospective customers to make informed decisions. This must be accessible simply, without requiring numerous 'click-throughs'. Too many click-throughs and you begin to lose the will to live. But you never know what's hiding behind that last one – the smallest of small print equivalent to trap the unwary lender.
disclose fees and charges, including the weighted average rate of interest paid by borrowers.
There is also a whole slew of requirements regarding clear reporting of performance. You can read the full list on the P2PFA's operating principles page.
Added security
Alternative finance organisations are also regulated by the Financial Conduct Authority. This gives borrowers and lenders alike a measure of security. That security should be further reinforced by P2PFA membership. While neither regulation by the FCA nor membership of the P2PFA are a guarantee of the security of any platform, both carry with them conditions that platforms have to meet – and prove they meet – in order to come under their remit. This arguably has already had a material affect, not least regarding P2PFA membership - while alternative finance is still a young industry, a number of platforms have folded: none of these have been members of the P2PFA.
So, if you're looking at investing through a P2P platform – whatever the sector – and you come across an interesting platform that isn't a member, it's worthwhile asking them why. And taking careful note of the answer.
As for us – unlike Groucho, we're proud to be a member of the leading P2P association in the UK, and arguably the world given the prominence the UK has in global alternative finance, and support its efforts to make sure that the sector plays as positive, transparent and ethical a role as it can.
---
---