At CrowdProperty, we deeply understand the frustrations that SME developers go through when trying to raise finance, as our founders have had the same experience themselves.
What is CrowdProperty?
CrowdProperty provides stretch senior finance for property projects, delivered by property people. As the leading property development and bridging specialist peer-to-peer (P2P) lender, CrowdProperty delivers exceptional speed, ease and certainty for property professionals, deemed both 'refreshing' and 'game-changing' by the many property professionals we work with.
Actual property development and investment experience lies at the heart of the business meaning a hands-on, expertise-led, partnership approach from application through due diligence and on to loan monitoring, meaning a property expert to property expert relationship with you, throughout your journey.
We focus on the SME property developer market, a key segment for supplying much needed UK housing stock, which is poorly and inefficiently served by traditional funding sources. We fund property professionals undertaking any sort of project (including auction purchases, bridging and development finish and exit products). We'll structure the perfect funding product for your project and are quicker, easier and more reliable than any other source, understanding your vision, your project and your needs and then working with you to mitigate the associated risks on a granular level, as we've been there ourselves. The property expertise at our core means we really work in partnership with our borrowers to put together the perfect package and work alongside you throughout, through thick and thin, to help ensure the project gets completed.
CrowdProperty has funded the development of over £110m of property and over 650 homes throughout the UK (including Scotland and Northern Ireland) since founding in 2013. We will swiftly look at any property project, lending from £100k to £8m+ for 6-24 months.
CrowdProperty is widely recognised as being one of the best, most expertise-led, transparent and accessible lending platforms in the whole UK peer-to-peer lending market (not just within property P2P), with a perfect lending track record. This is important to you, as a property professional interested in raising funds, because such recognition of the CrowdProperty trusted brand not only brings plentiful capital for your projects from our complementary and reliable sources of capital (retail, HNW and institutional sources) but also recognition that your project is approved and funded by the best in the business. This has huge benefits for building your brand and for raising mezz/equity capital too (although mezz is rarely needed given our stretch senior offering). That's why we lead the space and our many projects fund in minutes if not seconds.
At CrowdProperty we are very proud of what we do and our game-changing approach to property project finance. We're property people who have been investors and developers for decades - we've been in your shoes and know what's important. We are totally transparent and you speak directly to experts and decision makers. For property professionals, it's less about the source of the capital or our website – it's all about us building the best property project lending business in the market for you. The business is underpinned by technology for speed and efficiency, packed full of experts for effectiveness and entirely built around your needs as a property professional.
CrowdProperty is authorised and regulated by the FCA, is an HMRC approved ISA / IFISA manager and is the only property development specialist platform on the Peer-to-Peer Finance Association (www.p2pfa.org.uk) membership, the leading industry body in UK peer-to-peer lending, which in many respects is at the forefront of the development of peer-to-peer lending globally. In 2018 we also became the first and only property development/bridging P2P lender to become Brismo Verified, independently validating CrowdProperty's market-leading performance, showing significant outperformance of Brismo's UK P2P Index and underlining our commitment to disclosure best-practice and independent accountability for the performance of every loan that we originate.
The need for CrowdProperty/P2P lending
Is it no secret that the UK is suffering from a chronic shortage of housing supply. According to Parliament, the number of new homes needed in England alone is as much as 340,000 each year, with the total housing stock in 2017/18 increasing by around 222,000 homes. Smaller sites are key to filling this shortfall as larger sites are getting built out, but this potential cannot be unlocked without appropriate funding. We had seen and still see too little of that provision, however, from the banks. What's more, this is not only restricting the number of homes that are built, but also spend in the economy on materials, labour and services, which the UK could do with a bit more of at the moment.
It is easy to understand the reluctance of banks to fund SME developments. They go through pretty much the same due diligence process for a £500,000 as a £50m one. And when you have a back office as costly to maintain it makes stopping to service smaller loans an unattractive proposition. Add to that the fact that banks are constrained by regulators as to the degree of risk they can carry on their loan books based on their balance sheet, with SMEs loans perceived as riskier than large companies ones, this reluctance is hard to overcome.
Individuals looking to make productive use of their capital are little better served. Cash is at negative real rates, as are government bonds. UK corporate bonds are just about keeping up. The attractions of alternative yield-generating asset classes, such as property, are therefore obvious.
But here, returns can be thinly spread. When investing through conventional channels, though yields may be greater, there are many interested parties wanting to take their share of the pie: financial advisers, fund companies or banks, property lenders and brokers, may all stand between those lending the capital and the developer. They each need to cover costs and make profit. The broker alone can take 1% in fees from the developer and between 1 and 3% from the lender.
There was clearly a need for something like CrowdProperty: a marketplace offering a better deal to both borrowers and lenders. That is what we have been doing for the past six years – fulfilling that need by building a platform that connects developers with lenders directly, without all those costly bits in between.
However, it's important to emphasise that this is not just a well-designed piece of technology. CrowdProperty is run for property developers and investors, by experts in property development and investment. We built it because we saw the need for it, and we continually research the marketplace, making sure we address the evolving market needs and – importantly – evolving risks. We've been there and done that many times through many cycles – we know the risks involved and how to mitigate them.
Because we live this market, we have managed to build what is now the largest specialist property project peer-to-peer lending platform in the UK. Ultimately, that's not something we made happen, but that our borrowers and lenders achieved, through the certainty CrowdProperty brings to their business financing and to the security of their income.
Experts in property offering a better deal for developers
At CrowdProperty, we deeply understand the frustrations that SME developers go through when trying to raise finance, as our founders have had the same experience themselves. Six years ago, CrowdProperty's three founders, who have 75 years of investing and developing experience between them, came together because they felt the funding market for SME developers was broken; capital was not getting to those developers who need it most and could use it best – those who were providing the service that is most needed – small and mid-sized developers building out smaller parcels of land.
We have been in the shoes of a property developer: we've had to navigate banks that neither understand property nor do they seem to even want to; climbed mountains of pointless paperwork, and dealt with advisers and business development staff who don't understanding the business proposition and therefore opt for 'computer says no'.
What developers need is speed, ease and certainty: speed of making the decision, ease of the process and the certainty of receiving that finance. As a team of deep expertise in exactly this asset class, we are able to make quick, knowledgeable decisions and, with a Crowd of over 8000 lenders, pension, ISA and institutional funds, we provide certainty of funding for projects, throughout their duration, for projects that pass our 57-step underwriting process.
At CrowdProperty you deal directly with the experts– people with both the experience and the authority to make the decision on your loan. They look at the relevant – and only the relevant – information on which to base a loan decision: quantitative and qualitative factors, such as vision, experience, architectural integrity, condition, micro-locational factors and site potential in order to make a balanced and expert judgment. That said, they won't take their time when it comes to giving you an initial loan decision, which you should receive within 24 hours (and often more like 1 hour).
CrowdProperty supports all types of residential property projects, whatever the structure or nature. We understand the implications of different business models or deal structures, how market demand is changing the end-product and the funding products needed, from auction finance through bridging finance to new build development and everything in between, including complex, bespoke and hybrid structures where needed. The world does not consist entirely of semi-detached build, and it needs more than a semi-detached mindset to service this.
We offer loans from £100,000 to £8m-plus, with interest rolled up and quick drawdowns through the project. And a promise of no nasty last-minute surprises, such as hidden fees. Everything we do is up-front and transparent.
Not only will you have access to our experts at the start of the transaction – agreeing terms, confirming the loan – but we will support you through the whole process, communicating with you throughout, agreeing a structured draw down plan, and always on hand to work through the details and any changes that might occur along the way. If there's a problem, just pick up the phone: we can help you sort it. We will never simply release the funds and leave you to get in with it, we work in partnership with you to ensure the project is a success.
Projects can be troublesome enough in their own right. Financing them shouldn't be. Property finance by property people who have been in your shoes just makes sense.
What CrowdProperty funds
We get asked all the time, 'what sort of property projects do you finance?' And the answer is always 'everything except your long-term mortgage'.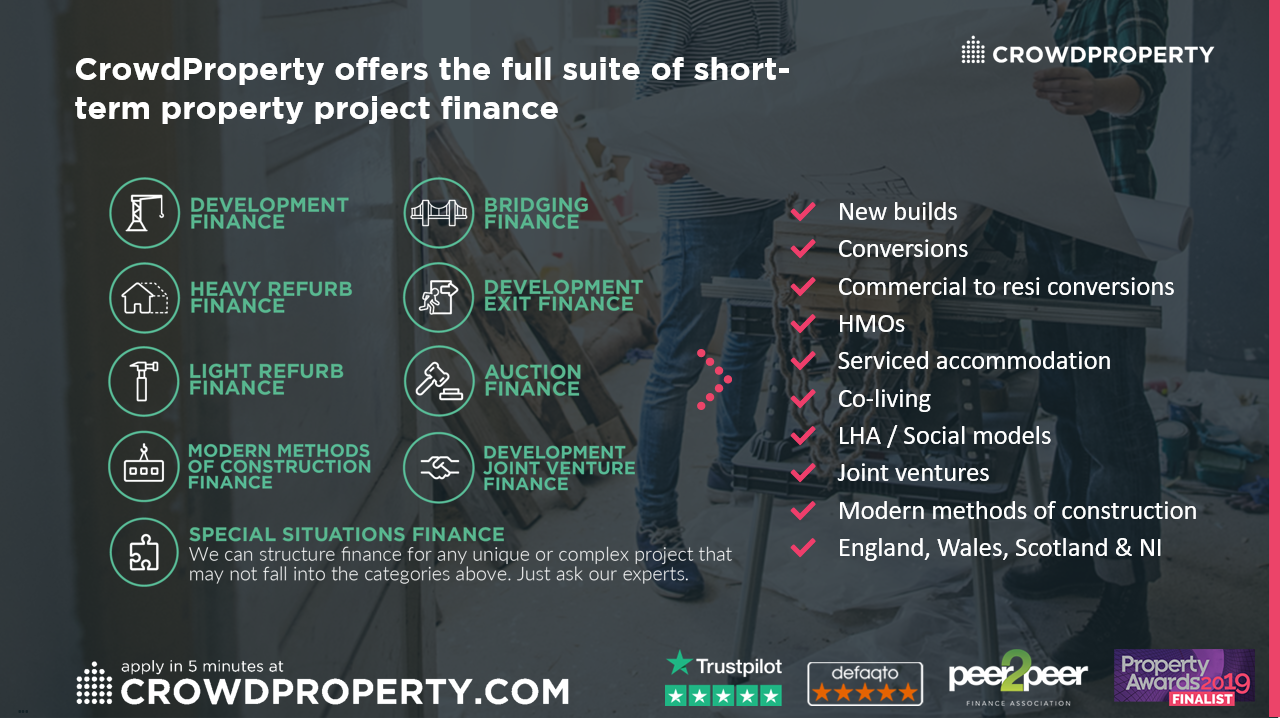 We lend to every type of project out there and if it doesn't have a pigeon-hole, our experts will create the perfect structure that best suits your needs. Our core product offering is as follows:
Development Finance: supports new build development or projects that significantly add to an existing property. A drawdown and raise structure will be designed to fit your project timeline. Up to 70% LTGDV including interest-based, with up to 70% LTV on initial purchase/value and 100% of development costs.
Heavy Refurbishment Finance: for major refurbishment projects which do not add significant floor area to the existing property, with costs of up to around 50% of the market value of the project. A drawdown and raise structure can be provided. Up to 70% LTGDV including interest-based, with up to 70% LTV on initial purchase/value and 100% of refurbishment costs.
Light Refurbishment Finance: for modest refurbishment, with costs of c.15%-50% of the market value of the asset. In additional to residential improvement projects, conversions to HMOs and other end-usage types are most likely to fall within this product. Up to 70% LTGDV including interest-based, with up to 70% LTV on initial purchase/value and 100% of refurbishment costs.
Bridging Finance: to help you secure a property purchase quickly, span stages through a property project, unlock capital from an asset or fund a lower level of works. It is structured in a single drawdown and can be serviced with monthly interest-only payments, with an option for rolled up interest if appropriate. Up to 75% LTV, secured by First Charge.
Auction Finance: we fast-track completion to guarantee delivery of the finance you need within tight auction timescales. We have the expertise, systems and capital so you have the finance in place quicker than you need it (with appropriate time contingency as there's a lot at stake). Up to 75% LTV.
Development Exit Finance: to bridge the period between finishing (or almost finishing) a development project, releasing the commitments of a development finance or bridge loan and providing breathing space to achieve the best exit. Up to 75% LTV.
Modern Methods of Construction Finance: for new methods of construction - Modular, SIPP, ICS, etc. We understand new methods at the cutting edge of construction and are able to structure a loan to suit the unique cashflows required for these complex projects.
Development Joint Venture Finance: for situations where the developer and an asset owner work together. Using joint ventures in property development allows you to ease cashflow demands, share and spread knowledge with other parties, unlock development opportunities and find specialist skillsets to help you complete your deal.
Special Situations: if it doesn't fit any of the other boxes, it'll probably fit here. For unique, often complex projects that may not fall naturally into the lending categories above. As experts, we will review any situation and can develop blended product or customised funding proposals based on the specific needs of a project. No project is too complex for our in-house property specialists.
Not only do we offer the full suite of short-term finance types, but as experts who stay at the very cutting edge of property market trends, we'll fund any property-type, construction method, tenancy type and UK location. Modular construction is a good example – we've now funded many modular developments.
Because we know the market, we won't take an age to mull over something because we're not familiar with it… before either turning it down or lending you less and charging your more because it's difficult to understand. We respect smart deal structures because we understand them. We also know that speed, ease and certainty is rare in the market because we've been there and that's why we founded CrowdProperty. Delivering on these is not just helpful, allowing you more time to grow your property business, but it can also get you a better deal with a vendor and therefore us better security.
What we offer is bespoke, each deal fits your needs and requirements; we won't try and squeeze you into a box because it suits how we do business. That's true across all the loan categories above, not just special situations, and we are no more expensive because we offer such tailored solutions to our borrowers (and why we often hesitate using the term 'bespoke' because it's synonymous with expensive). We are here to best support you and your business.
We hope that gives you more insight into the property project lending business that we have built to best serve you, that is proven with a perfect track record of lending for over 5 years. We're here to be your funding partner, helping you to grow your property business quicker. Welcome to the new era of property project finance.
And finally, here are a few links for further resources that may be helpful for you to find out more:
Discover more at www.crowdproperty.com
About Borrowing with CrowdProperty: www.crowdproperty.com/borrowers
Case studies from existing CrowdProperty borrowers: www.crowdproperty.com/case-studies
If you have a project you're currently looking at, at whatever stage, why wouldn't you apply to us in just 5 minutes and get our experts' view? Leverage our expertise by applying in just 5 minutes and hearing back from us within 24 hours on this link: www.crowdproperty.com/projects/propose
---
---