Article 37 in a series of 40 articles on P2P, property and CrowdProperty
The previous blog reviewed what we've learned since we started and how this has translated into a better proposition for borrowers. Below, we look at how the regulator is increasing investor protection, and what we're doing to implement this. Next, we'll summarise our journey to date and how we've developed the lender proposition.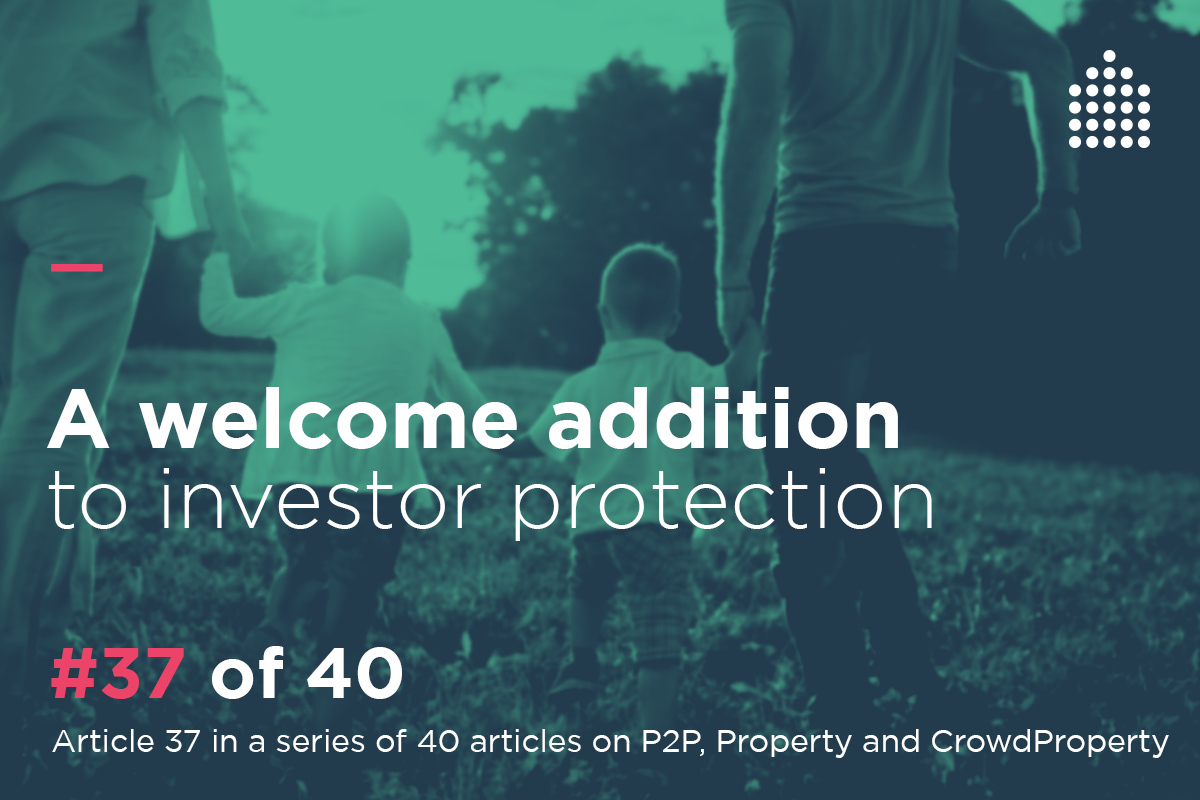 The regulator of peer-to-peer (P2P) lending has been tightening up on regulating the sector.
The Financial Conduct Authority (FCA) published a new set of rules for the industry in June, which will be implemented by 9 December this year.
"These changes are about enhancing protection for investors while allowing them to take up innovative investment opportunities," according to Christopher Woolard, Executive Director of Strategy and Competition at the FCA.
Much of what was proposed in the FCA recommendations following its consultation reflects what is established good practice in the P2P lending market, in which the UK is a global leader. When announced, the news was welcomed by ourselves and the Peer-To-Peer Finance Association (P2PFA), the self-regulatory body for the sector. The P2PFA requires the very best practices of the eight leading platforms who are members, including CrowdProperty.
The principles behind the requirements have always been at the heart of CrowdProperty's operating practices and we will be further implementing some of the specific requirements in advance of the 9 December deadline.
The FCA's conclusions centred around a few key areas. We've listed some of the most important ones below, along with what CrowdProperty is already doing to safeguard our lenders' interests:
More explicit requirements around governance arrangements, systems and controls internally, especially regarding credit risk assessment, risk management and fair valuation practices. CrowdProperty's risk assessment is very detailed, curating and pricing loans based on granular quantitative assessment and asset-class-expert human interpretation.
Strengthening rules on plans for the wind-down of P2P platforms. CrowdProperty has a detailed, fully costed wind-down plan already in place, created and evolved together with our wind-down service provider, Smith & Williamson (S&W). S&W is a top ten UK accountancy firm, highly experienced in the P2P sector. As our accountants, the firm knows the business well. It has a strong insolvency and recoveries practice and in the unlikely event of CrowdProperty entering administration, the plan ensures that your investments would be effectively managed to maturity with sufficient cashflow to fund that effective process.
Setting out the minimum information that P2P platforms need to provide to investors. Absolute transparency of data has always been core to CrowdProperty. Our statistics page provides a wealth of independently verified information - including performance data via market leading provider of lending performance data Brismo, and detailed information about each project launched to enable lenders to make thoroughly informed choices.
Marketing restrictions for P2P platforms designed to protect new or less experienced investors. This will require investors to self-classify as an investor type, the process for which we will be rolling out over the coming weeks before the 9 December deadline.
Introducing a requirement that an appropriateness assessment be undertaken by investors. Equally, we will be introducing a 'know your investment' quiz on the platform before the 9 December deadline, which you'll need to complete to invest after 9 December.
The summary of the FCA's consultation findings, plus a link to the full PS19/14 Policy Statement can be found here.
P2PFA Chair Paul Smee commented: "We are pleased that the FCA recognises the significant and positive impact which peer-to-peer lending has on the economy, as the sector becomes a mature feature of the UK financial services landscape; and we consider that overall they are proposing a proportionate way forward for regulation."
CrowdProperty will be making various changes over the coming few weeks, in advance of the 9 December deadline, so please keep an eye out for further communications.
If you have any questions, don't hesitate to ask and as always, we very much welcome your feedback.
Find out more at www.crowdproperty.com.
---
---