Article 38 in a series of 40 articles on P2P, property and CrowdProperty
The previous blog looked at how the regulator is increasing investor protection, and what we're doing to implement this. Below summarises our journey to date and how we've developed the lender proposition, and in the next piece we'll explain how time is money - and how we help borrowers save both.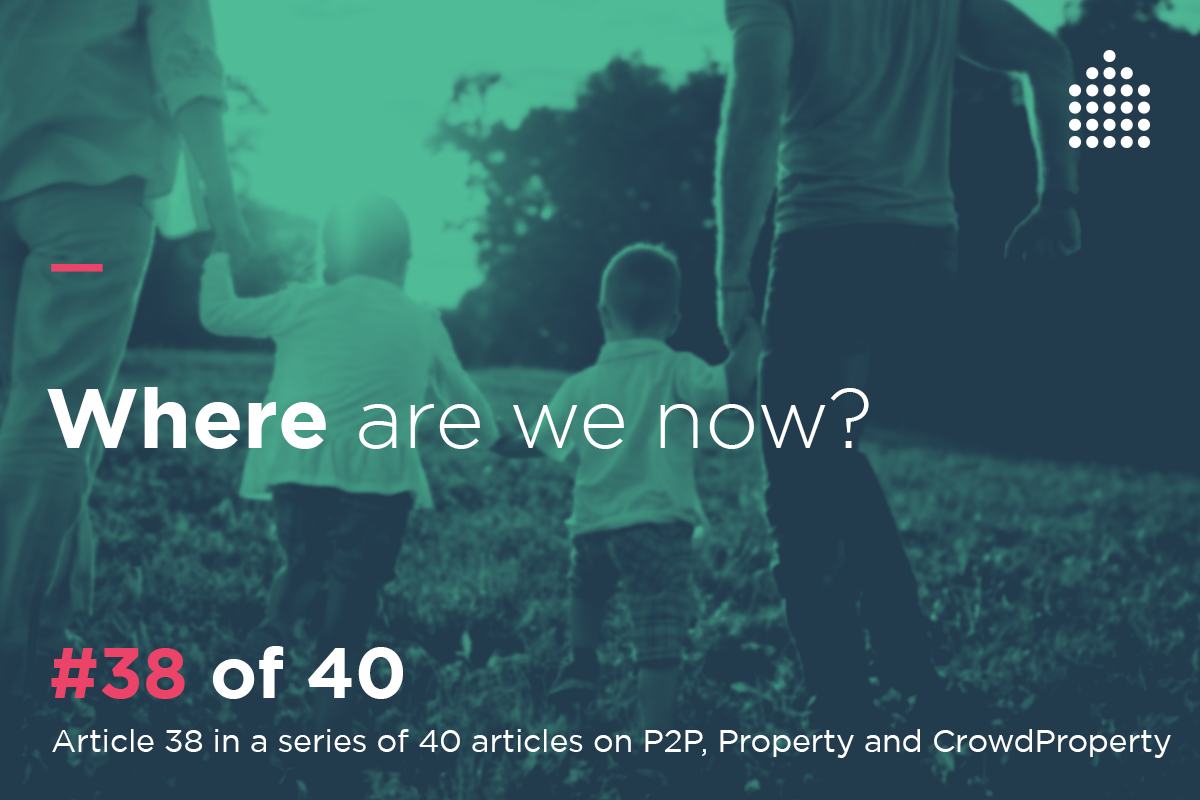 This was meant to be one of those milestone articles – but by the time we got to writing it, we'd left it barely visible in the rear-view mirror as we whizzed on past. We hit £50m lent, and are already over £54m. It's a good job we're far quicker at funding projects than we are at spreading the good news.
Alongside this milestone (but now stale) statistic, we have funded the development of more than £130m of property and 748 homes (in Mayan astrology, 748 is a really significant number so we've broken out a bottle of fizz). So, as we've enabled £70m of value add to UK property and £40m of spend in the UK economy, we thought it would be a good time to reflect a little on what CrowdProperty has delivered for our lenders – all founded on research and much taken up and valued by different people on our platform.
We insist on bringing you high-quality, first-charge secured lending opportunities - carefully selected from a run-rate of £2bn of direct funding applications - but that's just a very good start to delivering a platform that works best for everyone.
Own petard
We started 2019 with a better than ever pipeline (a claim we can make every month, given the growth of applications). We also faced a major challenge. The word had got out, and projects were funding in seconds. This was a frustrating period for lenders who found it hard to get into projects. We promised a couple of things:
The implementation of our AutoInvest product. However, as we built that, we also built and implemented a pledge limit system that gave people more time to invest - put together by our in-house tech development team in a long, intense night and fuelled by pizza. Pledge limits helped but some of our larger lenders felt held back, so it was all ultimately about delivering AutoInvest and continuing our hard work in growing the number of projects we were listing.
To continue providing and funding high-quality projects. Our expertise as property investors has meant we win the projects we want to, so the simple task was to find more we want in order to align both sides of the marketplace – ideally having projects funding for 24+ hours to cater for people who are able to look at our website at different times through the day.
Through the year, we've brought you:
Pledge limits (for a bit)
AutoInvest for standard and ISA accounts
AutoInvest for pension (a different animal to ensure pension rules compliance)
AutoReinvest (which has some exciting builds to come)
New loan types, such as serviced bridging loans providing monthly interest payments
Downloadable account data (transactions and pledges)
More, and more transparent, statistics
More information on projects
A new registration process
A new lender guide
A published loan book stress test and detailed wind-down plan
A two-hour detailed webinar of our due diligence processes
Further efficiencies throughout the business to keep bringing you rates closest to the borrower rates as possible
Third-party detailed due diligence, review and validation from leading commentators
Further validation through recognition in 16 awards across 10 awarding organisations
Our commitment to our partner charity, St Basils - helping to support their work to cut youth homelessness in the West Midlands
… and a whole heap of passion and dedication from our team of 32 to help you
Bucket list
And there's a bucket load more on our list to come.
In October, we received £185m of direct applications – a market-leading rate in terms of direct applications – and our pipeline into 2020 is better than it's ever been. As the volume of applications heads upwards, so does the quality mix of those applications, which we assess with our ever-tightening set of criteria.
We'll be launching a lender survey shortly but also welcome direct feedback, so please continue to get in touch as we really value this input and respond with action and change. Also, please let us know what you would like to know more about in this blog, which has proved to be surprisingly popular. We're always happy to tackle further topics that you wish to know about.
And this is still just the start of our journey in building and refining the best risk-adjusted investment platform for you. Together we build a better future.
Find out more at www.crowdproperty.com/lenders.
---
---