Article 28 in a series of 40 articles on P2P, property and CrowdProperty.

In the last article, we reviewed CrowdProperty's drawdown process. This blog focuses on the financing of modular housing, and next time, we'll have a look at what others are saying about us.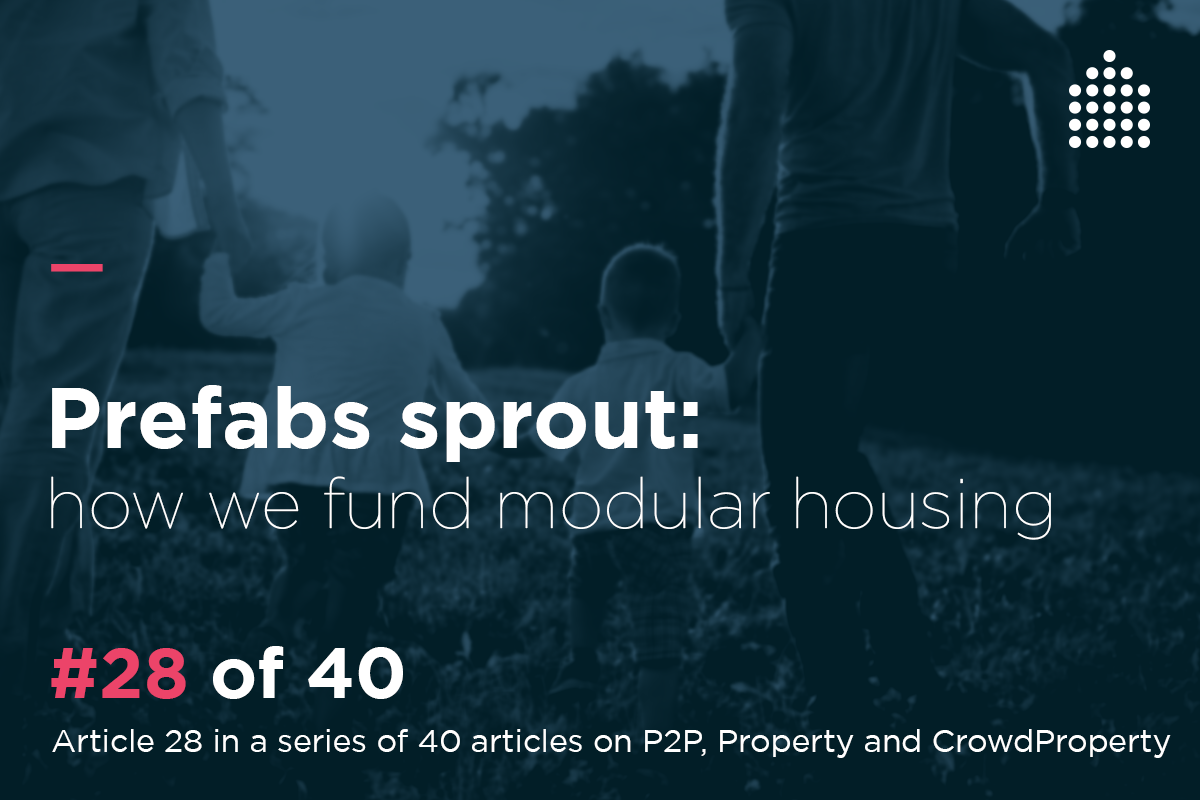 Prefabs have suffered a poor reputation: the cheap and not-so cheerful constructs hastily erected in the post-war period, which were anything but built to last. While we're now facing a different housing crisis than that engendered by the Luftwaffe, we are again woefully undersupplied with homes. Modular housing is once more providing a solution – but this time, of a more durable nature.
Our Nordic neighbours are ahead of the game here. Sweden – a country famous for its can-do attitude to anything flat-packed – has about 84% of its homes prefabricated using timber elements. There's probably an Allen key in the mix somewhere, although rarely that vital bracket missing.
Problem solver
Modular housing offers a lot of solutions, not least increased supply, as prices continue to spiral out of the means of many as a result of too small a stock. To address this, 3m new social homes are needed across England over the next 20 years, according to a report by the charity Shelter. What's more, 1.2m homes are needed for younger families1.
Quick to assemble and cost-efficient, unlike their forerunners, modular homes are both built to last and more environmentally friendly than traditional builds. They also take less work to put together, and therefore help resolve another contemporary housing issue – a shortage of labour.
There are moves to encourage the development of modular housing in the UK. The BOPAS accreditation scheme demonstrates to mortgage lenders, valuers and buyers that homes built in this way are durable – for at least 60 years. It also means that banks such as NatWest and Santander are increasingly prepared to lend on the final product.
Despite this, Britain has been slow off the mark when it comes to actually building them. Of the almost 200,000 homes built in the 2017-18 financial year, only about 15,000 were modular. But things are changing. For one thing, big institutional investors are catching on to the potential.
Investment bank Goldman Sachs has taken a £75m stake in Top Hat, which manufactures modular build in its Derbyshire factory2. Meanwhile, one of the UK's biggest Housing Associations, Places for People, is buying 750 modular homes in a £100m deal, making this the largest investment by a British housing association in the modular homes sector3. And, last year, Berkeley Homes announced it would build 1,000 modular homes a year out of its new Kent-based factory, while Legal & General aims to produce 4,000 modular homes a year.
Modular isn't a universal panacea, however. For one thing, ground risk still needs to be adequately addressed. Just because what goes on it is simpler, doesn't mean what's beneath is no longer a concern. Also, funding remains an issue. While, as illustrated, some areas of the market are throwing tens of millions around, elsewhere things are still sticky.
SME solutions
Not everyone can pitch up at Goldman Sach's swish City offices. Smaller, but still vital, allocations of cash have not been forthcoming. This is in part because a new category of risk is added to the mix: the business risk of the manufacturer, primarily because they need cash upfront for factory labour and materials, which is not easy to secure against. Therefore, no-one has really worked out how to fund this future of housing at the SME level of enterprise.
Until now. At CrowdProperty, we've funded many modular projects and understand that the finance loan is going to be 'front heavy' to support the upfront costs required for materials. As experts, we've worked hard to build a product that solves these challenges and makes these projects successful.
Our Modern Methods of Construction Finance caters for new methods of construction: modular, SIPP, ICF, and so on. As property experts, we understand new methods at the cutting edge of construction and are able to structure a loan to suit the unique cashflows required for these complex projects. It's the first dedicated modular product in the market, with one recent example being an air-rights modular build in London successfully funded on our platform.
In addition, our Development Joint Venture Finance caters for situations where the developer and an asset owner work together. As property experts, we know using joint ventures on such projects allows you to ease cashflow demands, share and spread knowledge with other parties, unlock development opportunities and find specialist skillsets to help you complete your deal. Again, our Joint Venture Finance is the first dedicated product in the market.
We have funded projects from air-rights modular drop-ons to new build SIPPs. In all cases, we've built the loan structure for the individual case, engaging with all parties to get to a secure arrangement for everyone. We know how to fund modular and will work closely with you to ensure that your modular build is a success, putting you above the rest in securing sites for modular developments.
So, if you have a modular project, speak to us: CrowdProperty is an expert in this market and we could well have the perfect funding package.
---
---