Article 35 in a series of 40 articles on P2P, property and CrowdProperty
The last blog summarised CrowdProperty's distinctive lending proposition. Below, we explain the importance of small developers for the UK housing market, and how we support them. The next article goes into how what we've learned since we started has translated into a better proposition for borrowers.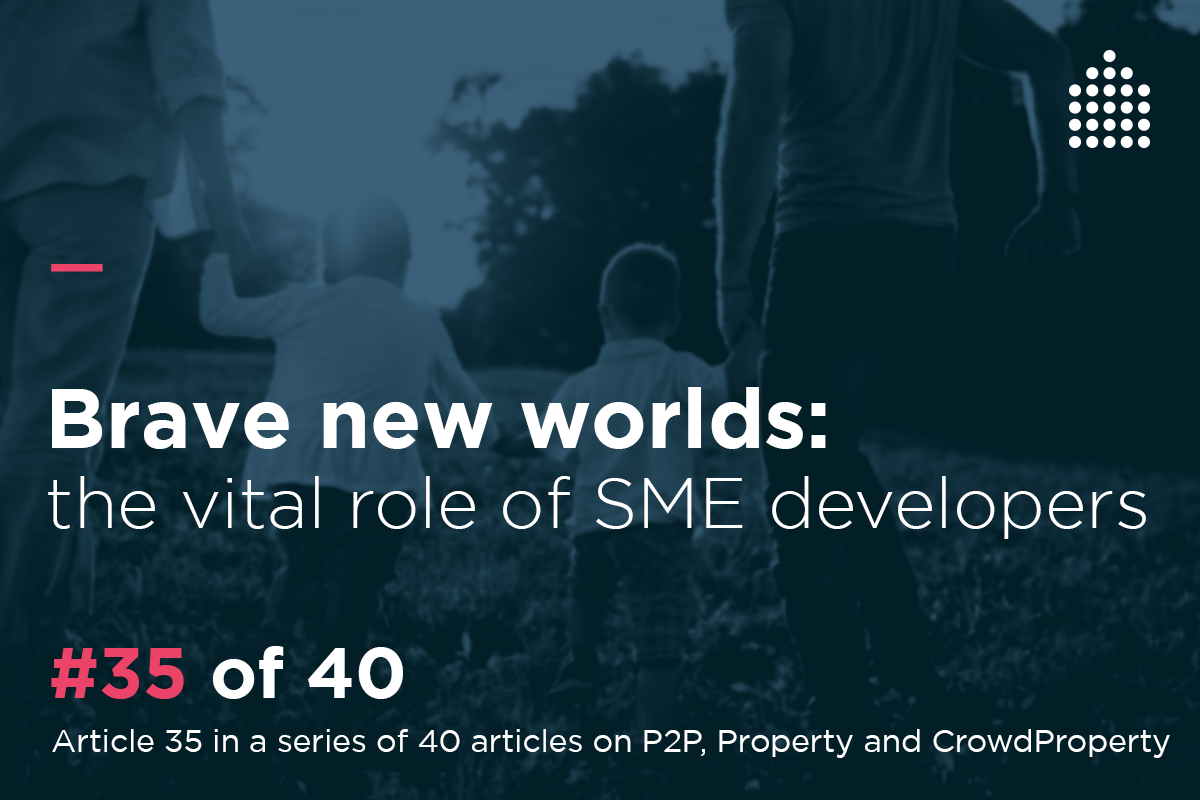 Housebuilding is broadly back where it was before the financial crisis (see chart). It's been a long haul back from the depths of recession - and while demand still outstrips supply, the direction of travel is at least upwards.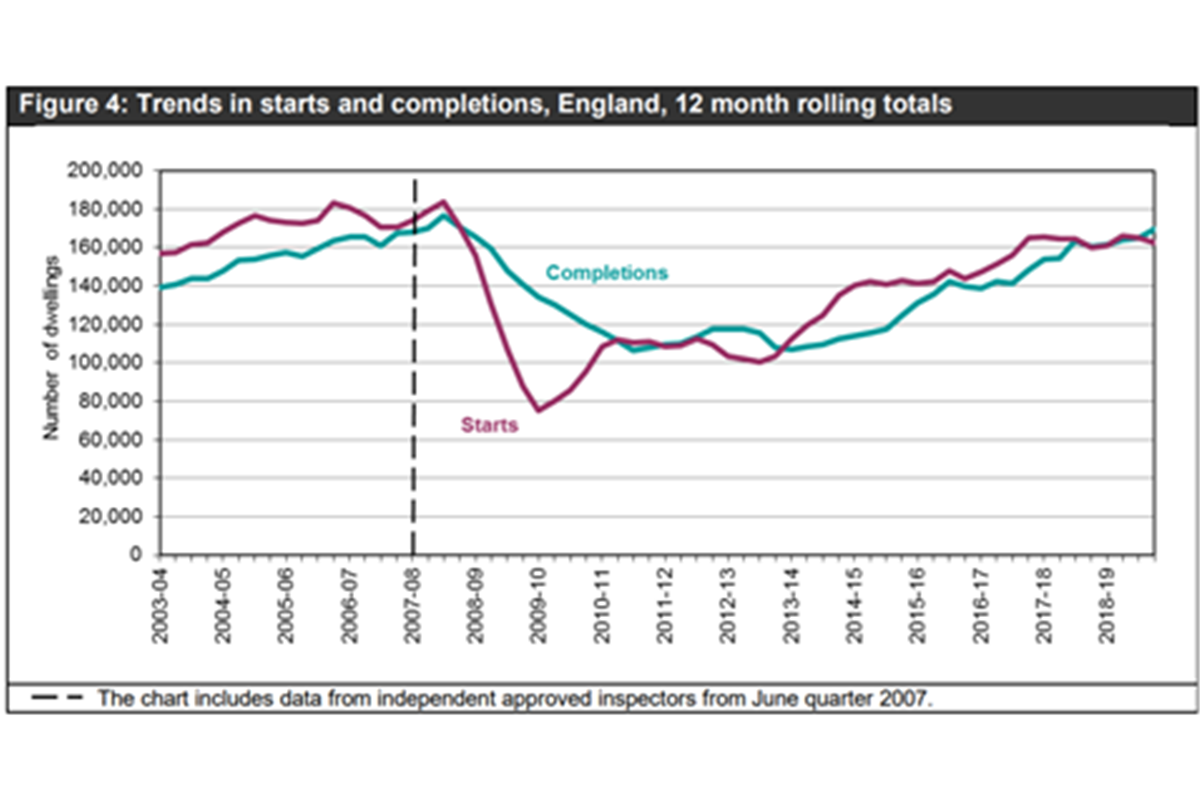 However, what's changed is the mix of developers providing this housing. Some 69% of the c.200,000 homes built in 2008 were by small and medium sized builders (29% and 40% respectively). However, by 2017, just 40% of the c.195,000 homes were built by small and medium builders (10% and 30% respectively)1 – most notably, 2018 supply from small builders was down by two-thirds. Small builders are defined as completing between one to 100 developments a year, and medium being between 100 and 2000.
Not to mention that the UK is still woefully short of the c.300,000 target. Now, some might say that we're not going to hit that target by small developments – that we need the scale that only the large developers can supply. Well, while we're not going to get there by SME development alone, it has a vital part to play - both quantitatively and qualitatively. Large developers, for example, want to work on larger plots of land. They're much less interested in smaller plots that are economical for SME developers, and environmentally beneficial for wider society. Refurbishment is also very much the domain of the SME developer, and can represent an unrealised maximisation of existing resources. Qualitatively, SME developers working on such projects can provide more varied and liveable properties than the necessarily cookie-cutter approach of the larger developers. Smaller developers can focus on the interesting projects that the larger ones can't, and on plots that they won't.
The squeezed SME
These are important ways in which SMEs represent the lifeblood of property development. So why are they being squeezed out? It's happening, above all, because of restricted access to finance. Traditional sources of funding have failed SME developers, amplifying the massive decline. Some 46% of earlier stage SME developers say that finance is the major constraint, with the majority saying that debt finance is their biggest constraint. Conversely, more SME developers said improving sources of funding would unlock more housebuilding for them than any other factor (and the second factor was an improving economy which is far less controllable).
One aspect of this is of getting asking prices to stack. Joint ventures with asset owners not budging on price is one way to unlock this, which the banks shy away from. Developer complaints that banks don't understand their project are sadly all too familiar, let alone all the other service failings.
This is where alternative finance providers such as CrowdProperty come into play. The key thing here is not the manner of lending – capital is capital – but the nature of the lender: we are property experts, first and foremost, and we understand the challenges that property developers face. We've not just walked a mile in your shoes, we've worn through countless pairs of them (speaking figuratively – don't send us your receipts from Clarks).
Reversing the decline
In order to reverse this decline in SME building, developers need to think about how they differentiate themselves alongside how they fund their projects (that's what we're here for). Here's a few examples from our experience of seeing and funding what's working in this area of the market:
Gone are the days of 'buy house, rent it out' for property investors. Many are looking to 'full value chain' investing: buy, develop, hold, yield
SME developers need to think much more like business strategists: focus on target customer segments, their needs, their price-points and the supply/demand balance in their target market to deliver targeted stock in manageable volume
Developers also need to create competitive advantage and mitigate scale disadvantage by specialising, knowing the local market, deploying replicable and scalable strategies - not just starting from scratch each time
New strategies need to be leveraged, such as development branding, exploiting PD, modern methods of construction and looking for angles that only SMEs can exploit, such as air rights (we've recently funded a number of air rights and modular projects)
This list is far from exhaustive and it seems that every time we take a call from a developer, we hear another example of the creativity and drive that's fighting to get a chance to show what it can do in this market. We understand and value that, not discount it.
There's a real opportunity for SME developers not only to reclaim the lost ground of the past decade, but to go much further - establishing themselves as a unique proposition within the market, adding dimensions to the UK market that the larger operations can't. For those who are willing and able to do this, contact us: we'd love to discuss how we can fund your creativity.
1 Figures from Balfour Beatty Investments 2017; the CrowdProperty SME Property Professionals survey, October 2019 (with more than 500 participants). The latter supports, albeit in better detail, the Government White Paper 2017 findings, which state that funding and planning are the biggest barriers to housebuilding in the UK. We found that funding barriers were far more acute for SME developers.
---
---