Article 40 in a series of 40 articles on P2P, property and CrowdProperty
The last blog looked at how funders' faffing costs you a great deal of money, and how we can help. Below, we take an overview of some interesting market trends and how we are best placed to fund them as we wrap up our series of 40 (but don't worry, we won't finish there).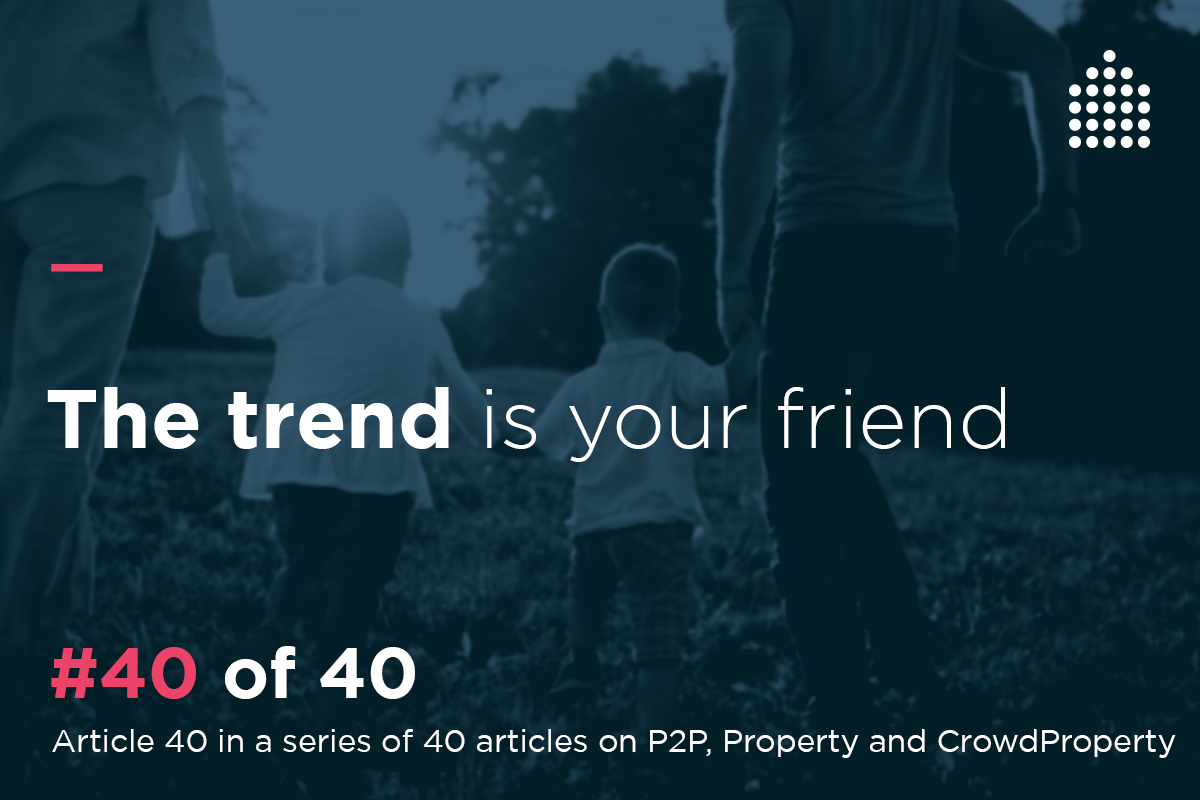 At CrowdProperty, we're right at the forefront of the market, given our expertise in exactly the asset class and segment we lend to – property professionals undertaking small and medium sized projects. Exactly those people, in other words, who have been underserved by traditional sources of finance for years. We lend to anything that will take the developer from acquiring the asset, through adding value, to either selling or refinancing.
Strong insight
In this position, we get an eagle-eye view over the whole SME development market - as we see about £2bn of applications each year - so get a real feel for the breadth of the market. This gives us strong insight into the major trends among SME developers – i.e. your peers. To reinforce this, we conducted the largest SME property professional survey ever to give you a strong, collective voice – and, of course, to give us a greater insight into our market. What we've learned is it's far from plain vanilla build out there – it's an incredibly inventive and innovative market.
Given this privileged position, we thought it would be useful to share some of this information – and we'll be delving deeper into this in the future. But for now, here are some of the are some of the things that your peers are doing more and more of in the market, all of which we fund:
Build/Convert to hold – it's the new buy-to-let with quicker capital recycling in a low capital growth environment (many investors are now moving into value-adding projects)
Portfolio purchases from tired landlords – and some complex ones involving rolling refurbs, exiting some, getting equity capital out and holding to cashflow (taxation hikes, of which we haven't yet seen the full extent, are driving portfolio exits, presenting opportunity)
Joint ventures – price expectations for sites are not aligned; working together can get everyone what they want (and we've just released a first-to-market dedicated product for this)
Modern Methods of Construction/Modular – it doesn't solve all challenges but it's 'must have' knowledge in your toolkit to future-proof your development business (and we've just released a first-to-market dedicated product for this too)
Air Rights + Modular – a powerful city strategy which we've backed (what's more, it's rife for a joint venture structure too... Air Rights + Modular + Joint Ventures + CrowdProperty = big gains from 4 powerful strategies compounding together). See the video case study below.
Price point arbitrage – a very purposeful strategy to take properties from illiquid price points to liquid ones (e.g. converting large expensive houses where the market is much more stagnant into Help to Buy territory)
Build a brand and a targeted product – differentiate, know your customer well, but always have a plan B. This is one way to build differentiation vs volume house builders and create character to stand out. Develop for your target customer.
The Cookie-Cutter strategy – do one thing and get better and better and better. Just like we are doing. That's how to become world class.
Of course, this isn't even a bite-sized summary – we're just skimming the surface here. But unlike banks, who all too often will suck in their cheeks and tell you "that's going to cost you", like a bucket-shop car mechanic, we understand how all this works – and we fund it. One of our favourite quotes from focus group research was this reflection on traditional sources of funding: 'Their reaction to a clever deal was to lend me less and charge me more'. That's a rational bank reaction if you don't understand something. But we love understanding those smart structures, so we don't lend you less nor charge you more – we'll give you credit for some smart work. Here's one Air Rights example, where we tackled many funding complexities in the project, with great results:
If you're doing any of this and are getting uncomprehending looks back from your lender, then drop us a line. If you're doing something we've not got covered... well, we'd be surprised, but we'd love to hear from you, as we – like you – are determined to stay at the forefront of this business and keep fuelling its, and your, innovation.
Find out more at www.crowdproperty.com/borrowers and apply for funding in just 5 minutes here: https://www.crowdproperty.com/projects/propose.
This, the 40th article in our series of 40 on alternative finance, peer-to-peer lending, property and CrowdProperty wraps up our series. We hope you've both enjoyed them and found them informative about the exciting new era of finance and in particular property project finance. We never rest on our laurels and have plenty of valuable content to come. Equally, do let us know what you would like to know more about – the series has proved to be very popular and we are happy to tackle further topics that you wish to know about.
---
---